Robbie Savage names his all-time England Dream Team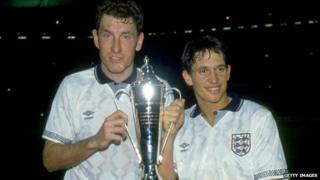 Robbie Savage enjoyed a successful football career during which he played more than 600 senior club games and won 39 international caps for Wales.
Since retiring from the game in the summer of 2011, he has become a football pundit with the BBC and is part of the team covering the World Cup finals in Brazil.
Robbie took time out from his preparations to answer questions from BBC News School Reporters from Ormesby School in Middlesbrough.
Q - Which players would you have on your England Dream Team and why?
A - I'm going to pick people from my era so I'd have Peter Shilton in goal. In defence, Gary Neville at right-back, Ashley Cole at left-back, with Rio Ferdinand and Terry Butcher as centre-halfs. especially Butcher because of the famous bloody headband he wore.
In the middle of the park I'd have Paul Gascoigne and Paul Scholes with John Barnes on the left and David Beckham on the right.
And how about my friends Alan Shearer and Gary Lineker up front.
Not a bad team that!
Q - How do you assess the job that Roy Hodgson is doing as England manager?
A - I think he has done an okay job. Drawing against Ecuador and Honduras in the recent friendlies wasn't great.
You would have expected them to qualify for the World Cup from their group and the friendly results under him have been pretty mixed, like the defeat against Chile in November for example.
So I'd say he is a seven out of 10 at the moment. Maybe I'll change that score in a couple of weeks.
Q - How far do you think England will progress in the World Cup?
A - I think England will go out in the group stages. I don't think they will get beaten - as I think they will win one and draw two but will go out on goal difference.
Q - If you could coach any team in the World Cup, who would it be and why?
A - I'd love to coach Argentina. With all the flair players they've got, plus how ruthless they can be in the tackle, it means they have got a bit of everything.
Q - If you could play like any player, who would it be?
A - I like players with pace, so I'm going to say Chile's Alexis Sanchez. He's got great speed that helps him burst past people.
People would normally say Cristiano Ronaldo or Lionel Messi obviously, but the one who can get the ball and knock it past people always gets my vote.
Q - How many different countries did you visit while playing for Wales and which one was the best?
A - I visited lots and lots of countries when I played for Wales but I can't remember exactly how many! I would say my favourite was Italy - playing at the San Siro was a great experience and Milan as a city is fantastic.
Q - Who was your favourite manager to play for and why?
A - Everyone I played for really. Mark Hughes was my hero growing up and Martin O'Neill was fantastic for me at Leicester. I was in the middle of the transition from a boy to a man and was buying my first house and he really helped me through all that massively.
Q - Which team do you think will win the World Cup and why?
A - Argentina. Obviously the tournament is in South America which is a huge advantage. The flair players they have got are outstanding and they have a role for Messi behind the front two. Angel di Maria was the best player in the Champions League final. Defensively they aren't that great, but the way they attack means that shouldn't matter too much.
Q - Do your children play football and would you like them to follow you and play professionally?
A - My two boys love football. My eldest is at Manchester United in their under-11s and has been there for three to five years now. My other boy just loves playing with his mates at Wilmslow Dragons.
Q - Did anyone or anything in particular inspire you to become a footballer?
A - I grew up in a normal house in Wrexham and started playing football with jumpers down for goalposts on the concrete outside my house. When the cars came in the cul de sac you had to wait for them to go past before starting to play again. Memories of playing with my elder brother were great.
Also watching staying up late to watch Match of the Day and seeing all my heroes play was further inspiration. It was a combination of things really.