Motivation key to Paralympic champion Ellie Simmonds' success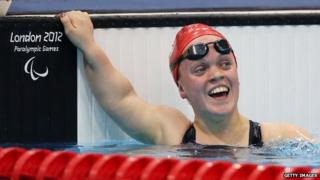 Four-times gold medallist Paralympian Ellie Simmonds will be spectating rather than competing during this summer's Commonwealth Games in Glasgow because her event is not part of the schedule.
Ellie has just launched the Show Your Support campaign, which encourages people to support their local schools and athletes competing in the School Games, focusing on the positive impact that encouragement can have on performance.
School Reporters from Whalley Range High School interviewed Ellie about how she balances sport and schoolwork, the support she gets and how she stays motivated.
Q - How did you get involved in sport at school?
A - It started with sports lessons and was a natural progression from there. I always loved sport so wanted to get involved with as much as possible.
Q - Why do you think taking part in competitive sport is important?
A - Competitive sport is really important because it gives you opportunities to compete at higher levels, but also sport in general is really important for keeping fit. If you make it fun then you don't realise you are doing exercise. Sport can also improve self-esteem, help you feel better about yourself and often you will make lots of new friends.
Q - How did your involvement in the School Games help you to prepare for being involved in the Beijing and London Paralympics?
A - It was the first multi-sport event that I took part in and I was away from home for the first time which helped me prepare for competitions which came later.
Q - We have a healthy eating policy at school. Do you have a diet plan and how do you stay fit?
A - I just have a healthy lifestyle, no real diet plan but I just make sure I'm good about what I eat and always fit in exercise. I also stay away from junk food. Everyone should aim to have a balanced diet and do regular exercise regardless as to whether you compete at sport or not.
Q - What made you choose swimming as a profession?
A - I just liked swimming, in fact I loved it and then realised I was pretty good at it so and it started to be my main sport. I used to do a variety of sports but always made sure I went to my swimming sessions, partly because I always wanted to see my friends there.
Q - What helped you to prepare for the London 2012 Paralympic Games?
A - It was just a lot of focus combined with an intense training programme. That was it, really!
Q - How did it feel winning so many medals at your home Paralympic Games?
A - It was incredible, especially being at a home Games, it was really special. There was a lot of pressure in the build-up so it was a huge relief when I won medals and an amazing achievement.
The Olympics and Paralympics only take place every four years so it is amazing just to compete at one, but to represent my country at a home Games was just brilliant.
Q - Have you overcome any problems when training and competing for your sport?
A - Sometimes I have bad sessions but the good ones tend to outweigh the bad ones so it is just a case of being very dedicated and motivated.
Q - How did you manage to juggle homework with training?
A - My personality is very organised and I like to plan everything so I plan where I do my homework and stick to that. I'm lucky as I do AS Levels one at a time and I manage to get a balance between schoolwork and training.
Q - How do you stay motivated?
A - I'm lucky in that I get to go away a lot and compete - and competitions are very motivating as that's the reason why I do all the training. I've also got a great support group around me and the group I train with motivate me too.
That's why I'm getting behind the School Games Show Your Support campaign as I know first hand how important it is to feel well-supported in sport and it would be great if communities get behind their young athletes in this year's competition.
Q - What support do you get from your family and friends and school when you are training and competing?
A - I'm at college and they support me when I go away and understand the level I'm at, so they are happy to send work away with me. Friends understand I'm a swimmer and I may not be able to go out sometimes, and my family support me with competitions and everything actually, from driving me around to cheering me on at competitions.
Q - Who were your inspirations when you were growing up?
A - Nyree Lewis (Paralympic swimmer) and Michael Phelps (Olympic swimmer).
Q - What are your next sporting ambitions?
A - I'm going to the Europeans in Eindhoven this year and the World Championships next year, but my main goal is the Rio Olympics in 2016 and then hopefully Tokyo in 2020.
Q - What are your top tips for young athletes?
A - Be motivated and sometimes you need to make sacrifices, enjoy what you do. Find a sport out there that you really enjoy and when you find it, work at it. There will be hard times but it will come.