Physics is able to open doors for everybody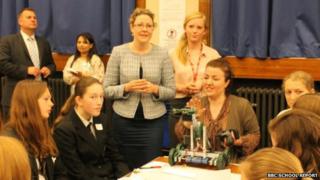 A delegation from the Institute of Physics descended on Highams Park School in north-east London to launch the institute's new Opening Doors initiative.
The focus of the day was a workshop for 80 students from the school, of many ages, discussing the perceived gender stereotypes in society and prejudices surrounding the subjects boys and girls choose to study.
The scheme will aim to promote science and physics in particular as being not a subject for boys or girls, but for people as well as challenging misconceptions about the subject's study and the career prospects it opens.
"It [physics] is not just about wearing a white coat and being in a lab - it's being involved in medical physics," said Dr Frances Saunders, President of the Institute, who attended with other prominent female scientists from Universities and industry (some of whom were ex-pupils of the school) as role models for the students.
"It's new energy sources, it's the climate, it's the environment, it's trains. It's all the different things where science can be really helpful."
Women and equality minister Jenny Willott MP also attended, affirming her support for the project by saying: "There is a persistent and debilitating myth that girls don't do science. It's just not true.
"The government is really committed to getting more girls doing science, technology, engineering and mathematics (Stem) subjects. The Institute of Physics has decades of experience in encouraging and promoting physics and we're working with them to launch this pilot scheme."
She also mentioned the launch of a media campaign in September to encourage more 14-16 year olds to choose STEM subjects at A-level.
In a time when the presidents of The Royal Society of Chemistry, The Society of Biology and the Institute of Physics are all women, the question of how to get more girls interested in Stem subjects and careers is a pressing one, but schemes such as Opening Doors provide hope for the future.
As Dr Saunders added: "Sometimes it's difficult for somebody within a school to see all the different things, so I think that where you can bring people that have got different careers, done different things and get them to talk about what they do I think that's a better way than formal careers interviews."
The range of speakers, and the variety of career options that were shown at the event, definitely piqued the interest of the Highams Park pupils.
The day was best summed up by Maddie in Year 10 saying "I'm definitely taking A-Level physics now."