Charity march marks World War One anniversary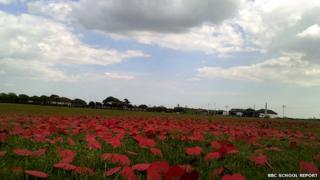 Pupils from Mayville High School have taken to Southsea Seafront for a charity walk named 100 by 100 by 100 to commemorate the 100th anniversary of World War One.
Fergus, aged 14, had the original idea for the event as he wanted to show his support for the armed forces during this historic year.
His original idea was for 100 pupils to walk 100 miles collectively to mark the 100th year since the start of the Great War.
Thanks to the support of the school, more than 350 enthusiastic pupils and teachers walked, ran or marched one mile each.
They started at Speakers Corner on Southsea Promenade and proceeded along the seafront singing It's a Long Way to Tipperary until they reached the War Memorial on Southsea Common.
The pupils and teachers watched a football game played by Years 3 and 4.
This was to represent the truce football match of Christmas Day 1914, which was played by the soldiers from Germany and England.
The students and teachers then listened to their very own Poppy Girl, Alice, sing Imagine by John Lennon and Always There Forever - one of the songs from the Poppy Girls album.
The Royal British Legion had donated thousands of poppies to the event which the pupils had dedicated to soldiers who had not returned from the war.
The pupils threw these poppies, class by class, into the air following Alice's performance.
The ceremony was then brought to a close by the playing of The Last Post and a two minutes' silence.
The pupils found this experience very memorable. Amelia, aged 13, said: "I am very excited and I respect the army a lot and I am planning to raise as much money as possible."
Tristram, aged 12, said: "It was a great experience and I would love to do it again."
Mrs Cooke, an RE teacher said: "I think it was a great experience and I ran all the way. My daughter is part of the armed forces."
Fergus was thrilled with the day and said, "I thought it was great and the outcome was amazing, I could not have wished for any better"
Overall, the event was a great success and the pupils raised lots of money, which will be split between the Royal British Legion and Help for Heroes.