Trainee journalists at the Giro d'Italia's visit to Northern Ireland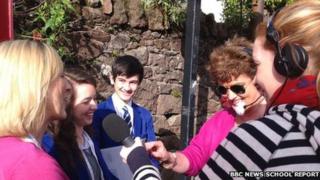 Today, we have joined BBC News School Report and BBC Radio Ulster under our new title as Trainee Journalists - a concept we are still not yet accustomed to!
Awakened early, we travelled to the heart of Cushendall to prepare for the insightful day ahead.
After hurried introductions and sweaty handshakes, we were plummeted into the midst of media as Anne-Marie McAleese, presenter of BBC Radio Ulster's 'Your Place and Mine', approached.
Suddenly, forgetting everything we ever learned in any respectful English class, we nervously answered the questions she fired at us.
Our phrasing was awkward and our throats were dry as we desperately tried to follow her last minute advice: "Silence doesn't work on radio".
As quick as it came, our five minutes of fame were over.
We were finally free to roam the streets of Cushendall and begin our roles as School Reporters.
We approached Rose Grant, lady captain of the golf club, who revealed how, in the lead-up to the Giro d'Italia, the members: "Dropped their clubs and took up brushes and shovels".
This was a chance for us to get our first taste behind the scenes of journalism, gathering useful tips along the way.
After several cuts and a few humorous bloopers, we were finished our first two minutes of footage.
It was only after this that we realised the time-consuming dedication that real media demands.
Following several interviews with politicians and local businessmen, our confidence blossomed and so did our interviewing skills.
By the close of the day we truly felt comfortable in our roles as reporters and shed the label as "trainees", to the point where the camera became invisible to our eyes.
Hopefully this is the hallmark of a successful career in media and promise of a bright future.
This has been Matthew and Shauna reporting for BBC News School Report.