English schools World War One battlefield tours launched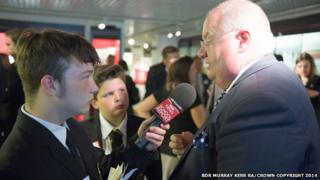 We were invited as guests to the official press launch of the First World War Centenary Battlefield Tours Programme, at the Guards Museum in London. This is a government scheme to commemorate the centenary of the war.
As this year it is 100 years since the start of the First World War, the government and Institute of Education is organising this programme so two pupils and one teacher from every secondary school in England can go and visit the Western Front, like we did last month.
We were lucky enough to go on one of the pilot tours and so were at the event to talk to people about this.
On the tour you visit places such as the Commonwealth War Grave sites of Tyne Cot Cemetery and the Somme, where you can see some trenches.
You also take part in an evening event at the Menin Gate in Ypres, Belgium where the Last Post is played and poppy wreaths are laid in memory.
This ceremony takes place every evening to remember those who fought and died for us all.
The trip also visits the In Flanders Fields Museum where you can get involved in making part of a memorial to the 600,000 soldiers who gave their lives while fighting in Belgium during the war.
We also spoke to a current army soldier who told us his experiences about the struggles of war and how he lost his best friend in Afghanistan - this was the most touching part of it all.
With the launch event for the tours taking place in the Guards Museum, all the guests were surrounded by military history and uniforms.
Guests were from the Institute of Education, the company running the tours and lots of different organisations involved in First World War projects as well as some of the battlefields guides and historian Dan Snow.
There were speeches from Professor Stuart Foster, Executive Director of the programme at the Institute of Education, and the special guest, The Rt Hon Eric Pickles MP, Secretary of State for Communities and Local Government.
We had a chance to interview Mr Pickles and ask him about his own First World War family history and why he thinks visiting the battlefields is important.
He told us: "I went on a battlefield tour as a punter a number of years ago. Then just to make sure that everything was OK for you folks I went on a preliminary look, but for me it's personal,
"I've listened to my two grandfathers' stories of the First World War and my grandfather Edgar was injured there, lost part of a lung and lost the use of his left arm.
"When I was your age, a lot of the people who would've been veterans of the First World War were people who were familiar with them, Grandma and Granddad's friends, so what happened was much more familiar.
"Now the last survivor has passed away it comes into the realms of history so it's important to remember that these weren't faceless individuals, they were real people that were destined, when they were born, to become soldiers or sailors or airmen. They did this as volunteers."
We also asked him if he thought the tours were a good way to spend public money and he replied: "I think it's a great use of money.
"It's a recognition of no matter where you came from in the world, whether you came from India or Turkey or China, your DNA is in the soil of the Somme or of Flanders.
"The First World War largely framed the 20th century."
We then asked Mr Pickles whether this kind of programme should be extended to other historical events, like the centenary of the Second World War when it comes around.
"You will be making that decision!" he told us. "I suspect we'll want to do something similar then."
We also spoke to other guests at the event about the programme or their connection to the First World War, including two other students from Ormiston Rivers Academy who are going on the tour next year:
Emily said: "The people who were in the war aren't alive any more to carry on the memory; we need to remember it in our own way."
And her fellow pupil Matthew added: "They've put themselves out there for our country and defended it with honour. So many people have died and it's great to remember that people were as good as this, willing to do this for their country - it shouldn't go unnoticed."
After the speeches we also had the opportunity to visit The Flanders Fields Memorial Garden in the grounds of the Guards Museum with Mr Pickles.
Andrew from the Guards Museum explained to us that it contains sacred soil from each of the First World War battlefields and cemeteries. It will open to the public in November and be somewhere people can visit if they can't go to France or Belgium themselves.
Meeting people who have helped develop this programme and attending these trips was a real privilege, especially speaking to people who genuinely care and want to help young people to fully understand the impact of the First World War.
Just seeing ourselves in a video clip in Belgium that was played at the event, and meeting other people who have been to the battlefields, shows it is a really intense and emotional experience. We've seen people in tears
In being part of the First World War Centenary Battlefield Tours we've learnt how important it is to remember those who died for our country 100 years ago and we will be sharing this with our school community more in the months to come.
Why not send us a report of your visit to a World War One battlefield?