School Report prepares for busy sporting summer
11 April 2014

From the section

Home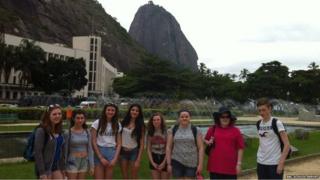 With the biggest ever News Day fresh in everyone's minds, the BBC News School Report team are preparing for a busy summer term.
Sport will dominate many people's minds with football's World Cup taking place in Brazil during the summer.
But closer to home, Glasgow stages the Commonwealth Games from 23 July.
And at the start of the new school year, thoughts will also turn to the Scottish independence referendum which takes place on 18 September.
Since School Report's highly successful eighth News Day on 27 March, the team has been checking school websites and dealing with administrative tasks before taking a short Easter break after which it will be time to look ahead.
There are plenty of reporting opportunities coming up with which School Reporters can get involved.
The Commonwealth Games Queen's Baton Relay travels around the rest of the UK before arriving in Scotland on 14 June.
It is touring Northern Ireland from 20-23 May, Wales from 24-30 May and England from 31 May until 13 June.
Slightly further afield, the World Cup kicks off in Brazil on 12 June. A group of School Reporters from Comberton Village College School in Cambridgeshire have already been out to Rio for the Street Child World Cup and have been reporting on their progress.
Just over a month later the main sporting action is in Glasgow with the Commonwealth Games.
And the big political story of the year will also take place in Scotland with the referendum to vote on whether the country should become independent taking place on 18 September.
By that time, the ninth year of School Report will be under way with the date for News Day already set for Thursday 19 March.
Details of how to sign up for the project will follow later in the year so watch this website or follow us on Twitter at @BBCSchoolReport.