Jeremy Vine: Girls star on Radio 2 show for BBC School Report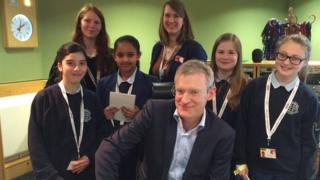 Four pupils were lucky enough to appear live on Jeremy Vine's Radio Two show as part of BBC School Report.
The students, aged 11 and 12, from Sacred Heart School in Hammersmith, London, bumped into a string of celebrities on their visit to Broadcasting House.
Hannah and Izzy had a chance to broadcast live to the programme's listeners on Thursday.
Hermela and Valeria had 'shout-outs' on the show and were given a behind-the-scenes tour.
The girls also met presenters Dermot O'Leary and Sara Cox, singer John Newman and actor Tom Conti.
"I found all the staff very friendly and welcoming. It was quite inspiring how all the people worked together in such a short space of time," said Valeria.
Hermela observed how callers phoning in to the show were kept informed as they waited to go on air.
"It was nice to see how they kept people on the line and up-to-date, and told them that they would be on soon," she said.
Izzy and Hannah enjoyed their spot in the limelight and seeing how the show was put together.
"Everyone was very efficient and multi-tasking. It was done quickly and productively, with the stories delivered well," said Izzy.
Hannah added: "Jeremy Vine was very friendly and he made sure we were involved in the show. It was really interesting finding out what goes on."