BBC Birmingham gives School Reporters behind-the-scenes tips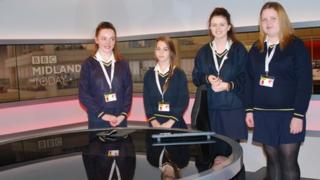 School Reporters from across the West Midlands have gone behind the scenes at BBC Birmingham on the BBC's News Day.
A total of 50 pupils from seven schools took part in a range of workshops, including visits to the BBC Midlands Today team and BBC WM.
Others had the chance to become sports commentators, weather presenters and online journalists.
Sukhpreet, who attends Nishkam High School, said: "This scheme has inspired me to become an editor in the future."
St Paul's School pupil, Lola, was given the opportunity to present the weather and was given tips by BBC Midlands Today's Rebecca Wood.
During the session Lola was also given the chance to take part in a phone conference with BBC weatherman Alex Deakin and to ask him questions.
Deep breath
"I really enjoyed it," she said. "I asked him his top tips for presenting the weather.
"His answer was to take a deep breath and think of your family."
Pupils from Pershore School, in Worcestershire, asked Rebecca whether she still got nervous when she presented live on television.
"Yes, I still get nervous every time I stand on the cross in the studio," she said.
"Still to this day all I think about is my dad sat there watching me, which makes me think, 'I can't go wrong'."
'Phenomenal' event
Students from St Paul's School, in Birmingham, were surprised at how small the Midlands Today studio was.
"This is pretty new to us," they said. "We wouldn't mind a job here."
School Reporters from Nishkam High School, also in Birmingham, dropped into the sports commentary workshop and asked those taking part what they thought of the School Report initiative.
Dominic, a student at City of Birmingham School, said: "We have gained speaking and listening skills, such as learning to project our voices."
Pupils worked hard all day and found it to be a "phenomenal event" as well as "extremely engaging and challenging".
Overall, the day was a great experience for the pupils who participated.
And perhaps the BBC might have uncovered its next generation of commentators, reporters and presenters.