Pupils vote in mock Scottish referendum for School Report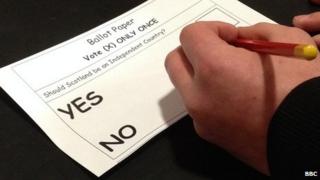 The referendum on Scottish independence has returned a "no" vote - at least in a school in East Lothian.
Students at Ross High School in East Lothian held a mock referendum for School Report to help raise awareness of the real vote on 18 September.
A ballot box in the assembly hall attracted a 70% turnout of voters.
"It was really busy," pupil Caitlin told School Report. "For the majority of us this was our first vote so it was exciting to see how it worked."
The mock referendum had been organised by Ross High School modern studies teacher Mr Munro and history teacher Mr Kettles, along with School Report co-ordinator Mr MacLean.
The Scottish independence referendum will allow 16 and 17-year-olds to take part in the ballot, but Mr Munro says more needs to be done to encourage that portion of the electorate to vote with their feet in September.
"We decided the school needed to engage more young people in the democratic process," he told School Report.
"It has been a challenging and eye-opening. Registering to vote is long-winded and the process itself is not very young person-friendly.
"Not enough is being done to engage young people. We need to do more to motivate them."
Ross High School has been encouraged by School Report to sprinkle some politics into the curriculum.
As well as the mock referendum on News Day the school organised workshops on topics including democracy, the economy, society and international affairs.
MSPs from the Labour and the Scottish National Party as well as representatives from Better Together and the National Collective campaigns also came in for a debate and Q&A session with the students.
"I like that they answered our questions and I enjoyed having a say," said Caitlin. "I got more involved and that's what I want to do more of in the future.
"I think the parties should involve young people more because we are the upcoming generation and we need to be involved."
Lee, a student who also took part in the mock referendum, agreed: "More young people should be involved in voting.
"Because of the debates, it has helped me make my mind up about which way I want to vote. This is a once-in-a-lifetime opportunity."
After the votes were counted at the end of the school day, the mock referendum returned a a 65% victory for the No vote with the Yeses for Scottish independence receiving 35%.