Belfast pupils champion integrated schools
27 March 2014

From the section

Home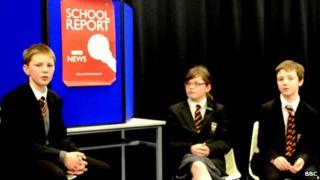 Students at Lagan College in Northern Ireland are using School Report to spread a message of "mutual respect."
A team of 14 pupils have been reporting on the importance of integrated education among the country's Catholic and Protestant communities.
"We wanted to get the message out about how important integrated schools are," said Carter, the report's news anchor.
"An environment of mutual respect is important all over the world, not just in Northern Ireland."
Lagan College was founded in 1981 as a response to the religiously divided school system in the province, becoming the first school in Northern Ireland where students of all religions could learn together.
"There is no question that many parents want to send their children to integrated education schools," said Lagan College teacher John Paul Patton, who has been co-ordinating the School Report project for students from his after-school media club.
"It's a successful movement but only 6% of schools in Northern Ireland are integrated. These schools are oversubscribed. We have twice as many students applying to come to Lagan as we can take.
"Integrated schools have a positive impact on society as the young students make friends across the religious divide and that helps them as young adults."
Carter and his fellow students are hopeful that their special School Report on integrated education will help prompt other schools in Northern Ireland, and across the world, to follow the example of Lagan College.
"I am a Catholic and everyone at the school respects my religion, as I respect theirs," Carter explained.
"I enjoyed working on School Report project. It's been fun working with my friends - but I hope it changes some attitudes too."
Increased integration among Northern Ireland's divided communities has remained a hugely complex issue since the historic signing of the Good Friday Agreement concluded 30 years of sectarian conflict in 1998.
A shared future project by the Northern Ireland government, announced in May last year, has, however, outlined plans for 10 shared education campuses and shared summer schools.