Student with a journalistic passion sets up his own newspaper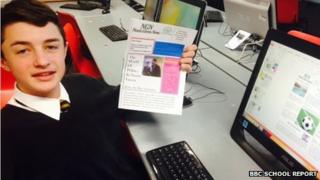 I am 15 years old, I go to the De La Salle Academy in Croxteth, Liverpool and my passion is journalism, which I have had since I was really young.
Journalism has always been the place that I go when something affects me personally, publicly or internationally and it is my megaphone when confronting these issues head on.
Normally, I use my journalistic skills to write a letter to someone who can change that current problem, or I interview someone to draw information out of the person in question.
However, I realised that with the problem currently happening in Norris Green - with the area becoming more known for its unflattering stereotype - that I needed to act, and that a letter and an interview would not be enough, and that's why I created Norris Green News.
Norris Green News is my vehicle to hopefully change the stereotypical view of the area and young people have had over time.
Journalistic instinct
I first did some research about the perception of the area. I discovered that about 75% of results on a Google search for Norris Green gave a negative impression of the area or its inhabitants.
I then looked into the good things that were being done in the area, because the more knowledge you know about your subject, and about what you're writing about, the better.
And then I used my journalistic instinct and started to scout about for stories, and my determination paid off.
I was told by one of my teachers about a competition called Awesome Liverpool, which gave the winner the opportunity to win £500 to use towards their chosen project.
I was lucky enough to win, and received great feedback and the help of a mentor to help me on the way.
I run the newspaper entirely on my own and it is hard work, but it changes people's perception and that's the main thing.
Being a young person growing up in this area of Liverpool, we often get the unfair label of "scallies" or people assuming that we are up to no good.
I wanted to show that the young people who are often criticised are often doing positive things, and deserve the opportunity to show what they are capable of.
Top tips
I've developed a lot of contacts in the local area, such as local businesses, councillors and the Lord Mayor.
I promote my newspaper around the local area and a lot of businesses have agreed to stock it for me.
If I had to give any advice to any aspiring journalists who want to be in the profession, it would be:
Have a clear idea of what you want to achieve
Have an advantage over others - find something different or unique that will make you stand out
Be passionate about what you are doing. It has been hard work setting this up by myself but the passion for what I'm doing carried me through
Be confident and curious - approach people who may be able to help you. They will want you to have confidence in what you are doing before they even consider investing in it
My aspiration is to have a career in the media. I have had the chance to experience being on radio with BBC Radio Merseyside last year with BBC News School Report and would love to take this further and someday soon have my own radio show.
Keep your ears tuned for me!