School Report looks at life in World Cup host Brazil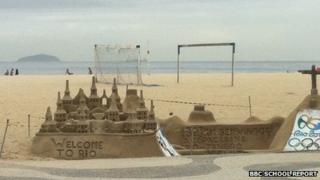 School Reporters from Comberton Village College in Cambridgeshire have gone to great lengths for one of their stories - they are in Brazil, attending the Street Child World Cup in Rio de Janeiro.
On School Report News Day they were based at the British School in the former Brazilian capital, providing updates on how the city is getting ready to host the 2016 Summer Olympic Games, and also the country's preparations for this summer's World Cup, which kicks off in June.
The Street Child World Cup, which started on 28 March, is part of the preparations for the main tournament
It features teams from 19 countries - including England - taking part in both boys' and girls' competitions.
Throughout their visit, the children have provided updates, views and pictures about children's life and schooling in Brazil - and the Street Child World Cup itself.
Video Diary
While waiting to board their flight to Brazil at Heathrow airport, the School Reporters share their hopes for their stay and send a weather-related message to the UK.
A taste of central Rio and the culture of the city by Mary, Year 9
The culture in Rio is very different to in England.
People in Brazil think and do things very differently to England.
When talking to Petra, my host family's mum, I found out that she had to learn to do things differently when she first moved, as she is from Germany - in particular getting used to the very friendly and unreserved nature of the Brazilians, who are very tactile and open.
On our first full day, we visited Sugarloaf Mountain, which was spectacular. The views were very beautiful, as we could see a lot of the city and several beaches.
We could not see any of the poorer parts of Brazil, so that made the view look posh and modern.
Day two took us to Centro. We first visited the Bank of Brazil, a beautiful building. Here, they have exhibitions of artists that the bank sponsors, which change every month or so.
They also have a library of books, usually from the era of the exhibition. When we went, the exhibition on art was about dictatorship in Brazil.
Although we couldn't understand all the signs, as they were in Portuguese, it was still very interesting, with some art that really made you think about what happened when dictatorships still existed in Brazil.
On the day we went, they also had a performance, with several people walking and running around, and one person at a time going up to groups of people watching, talking about what they were scared of and how they got over it.
We thought that maybe their walking, turning into running, could be to show how they got over their fears and moved forward in life, or that it showed how they were in every day life as they were sidestepping each other.
Art must be important here, with so much money being spent developing these exhibitions.
Equally, millions must have been spent on the refurbishments to the municipal theatre. We took a tour of this stunning building, where ballet and other performances are regularly held for the city's wealthier people to enjoy.
When walking around in the centre of Rio, we saw several people busking in the streets.
There was one very good group performing. This was like being at home, as there are several buskers in Cambridge.
There were also several people selling different items on the roads - when you stop in traffic, the people will go around the cars and try to sell things, usually food or newspapers, or even equipment to clean your car.
Food in Rio by Jessica, Year 8
I have been investigating the food in Brazil, so I tried the traditional cheese balls on Tuesday and the ham and cheese turnover later in the week, which was really nice.
We have been staying with pupils from the British School of Rio and we get to have school dinners.
They have many things on offer, like rice and beans and lots of salads and fruits and all very healthy. My favourite thing for lunch is pasta and cheese.
My hosts eat quite similar food to home, like pasta with tomato sauce.
On Thursday night I went to a very posh shopping centre called Rio Designs Barra, and we went to a chocolate shop where I had a chocolate milkshake with ice-cream in it.
Then I brought some presents for my family, who I miss very much.
I have nearly a week left in Rio and there are lots more foods I would like try. It will be interesting to see the food on offer in the favelas on our visit there on Friday, I don't imagine there will be many fancy ice cream shops there!
Life in the favelas by Kate, Year 10
On Friday we travelled to the Santa Marta favela, in the centre of Rio. In some areas the favelas (or slums) are really dangerous to look at but Santa Marta is "pacified", which basically means it is peaceful and safe.
The tour guide was really welcoming and as he took us around the favela he gave us information about the people and what life is like.
There are 6,000 people living in the tiny houses and cramped streets in the Santa Marta favela.
It was really strange seeing the way people live in Santa Marta, we had heard about the way some people live in Rio, but it was difficult to see it in real life.
It wasn't all sad and depressing though. There was a project which painted lots of the houses there a few years ago and the government have done lots to help; there are proper water supplies, electricity and a cable car to help residents get around the really steep streets.
It was such a brilliant experience getting so see people living their lives in such a different way to our own, but it has made us realise just how much harder life is for some people, such as the street children we will see when the tournament begins on Sunday.