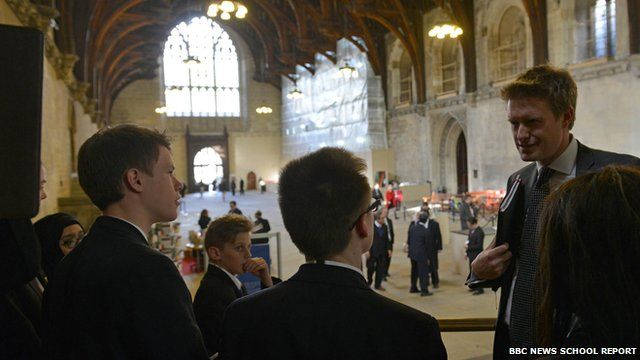 Tristram Hunt teaches students the history of Westminster Hall
21 March 2014 Last updated at 18:46 GMT
Shadow education secretary Tristram Hunt has given a group of School Reporters a quick history lesson on Westminster Hall.
School Reporters Jordan-Luke and Alex from Urmston Grammar School in Manchester, Bailey and Jessica from Stoke Damerel Community College in Plymouth and Parvin and Emma from Lode Heath School in Solihull met Mr Hunt at the House of Commons and he took the time to show them around.
The mini tour was quickly filmed after the students interviewed Mr Hunt and our camera crew was caught a bit on the hop!