European Tour winner Charley Hull Q&A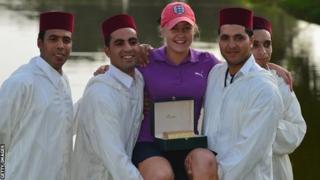 Young golf pro Charley Hull has claimed her first Ladies European Tour title by beating France's Gwladys Nocera in a play-off for the Lalla Meryem Cup in Morocco.
Hull, who first came to public attention for her abilities when she was only nine years old, was selected in August 2013 to compete in the Solheim Cup and became the youngest person ever to play in the tournament and received high praise for being part of the winning European team.
She left school aged 13 to be home-schooled, and started playing in amateur tournaments before turning professional last year.
In recognition of her talent she has already received a lifetime's membership at her local golf club and finished in the top three in the BBC's Young Sports Personality of the Year competition in December 2013.
Here, Charley answers the questions set by the BBC News School Report team from The Morley Academy in Leeds.
CHARLEY HULL Q&A
Q: Do you have a limit on how far you would be willing to go to become successful?
A: No, I will work as hard as possible to some day become world number one.
Q: If you were stranded on a desert island, what three things would you take?
A: My phone, a sand wedge and golf ball!
Q: Have you ever experienced discrimination in sport?
A: Yes, when I was seven years old - I played a 17-year-old boy and beat him so he swore at me!
Q: What is your worst habit?
A: Sometimes I am a bit OCD!
Q: How has your diet changed because of your sporting career?
A: I eat less junk food now and eat more vegetables, fruit and salad. To be honest though, it's mostly because I want to look good!
Q: Who is your current inspiration?
A: Tiger Woods.
Q: What advice would you give to somebody starting out in your sport?
A: Work hard and enjoy it. You have to have fun!
Q: What sort of person were/are you at school?
A: Straight to the point!
Q: Did you enter the sport through chance or personal drive?
A: Through chance really as Ben, my friend next door, and my dad played golf.