Jade Etherington takes downhill path to glory at Sochi Paralympics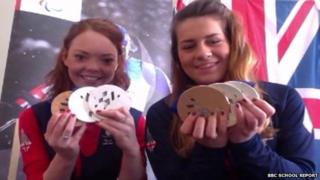 Skier Jade Etherington made history in Sochi 2014 when, alongside her guide Caroline Powell, she became the first British woman to win a Paralympic skiing medal .
They had less than a year to train together before the start of the Sochi 2014 Paralympics. With two events still to go, they took time from their hectic schedule in Sochi to answer questions via Skype from School Reporters from Caroline's old school The Coopers' Company and Coborn School.
Q. How did you get involved in downhill skiing and who or what inspired you?
Jade: For me it was going on family holidays and my mother is completely blind so she's been the main inspiration for me. It was just normal for our family just to ski - my dad and my mum and I just skied behind. It went from there!
Q. Was it at all difficult for you to change to being a guide as opposed to a solo skier?
Caroline: Not really, I used to instruct children to ski so they used to ski behind me the whole time. Coming into guiding Jade it was quite nice for me and wasn't unfamiliar. I just got into it straight away. Jade was really good at telling me what to do on and off snow. So it was fine, it was good!
Q. How would you describe skiing with partial sight?
Jade: For me it is all I've ever known because I've always had bad sight. When I'm skiing I don't feel like I'm partially sighted because I'm following Caroline. We're always trying to go as fast as we can and we always try to have as much fun as we can, whether we're going downhill or just training. It's something I really enjoy and it's a great sport because anyone, no matter what disability you have, whether you've got one arm or one leg or can't move at all. Anyone can ski so if I can do it - you can do it!
Q. How nerve wracking is it when you are going down a slope for the first time?
Jade: In speed events like Downhill and Super G you always have that fear factor. Especially here at the Paralympics you have to jump and I can't see where Caroline lands - she just drops in front of me and that's pretty scary! It's good though as it gets the adrenaline going and it's what makes it exciting when you complete at the end!!
Q. Did you ever doubt yourself, and your ability in skiing, due to being visually impaired? If yes, how did you overcome these thoughts?
Jade: Because I've always skied with limited sight not really, but when I got on to the circuit racing against lots of competitors I had to really think about how I could ski better with my sight. Working on/off the hill also and moving on the snow with my guide has really been key. Communication is key - both of us talking to each other about how we feel; what I need help with and what I don't. It's definitely influenced our success!
Q. How does the communication work between the two of you and has it ever gone wrong?
Caroline: We connect via Bluetooth headsets on our helmets. During slalom, quick races where there are gates that we hit, sometimes we knock them off. But I'm known on the circuit as a very loud person anyway so Jade can always hear me! I'm always in control of the Bluetooth headsets so I can knock them back on again anyway! That's the only thing that's ever gone wrong
Jade: We both shout at each other!
Q. How much preparation do you go through before going down a slope for the first time?
Caroline: A lot!
Jade: We have an inspection first to go to the slope to see what it's like and to see the terrain. That's when me and Caroline work together as to what commands we will use and where we think we might lose or gain distance. So going from a steep to a flat and vice-versa.
Caroline: When we are at the top of the race we have a routine which we go through to try and get rid of nerves. So Jade will punch me and stuff and I'll hit her on the head (both laugh). We'll just do a little talk between us to say what it means to race downhill here and that we're concentrating on our performance and not any medals. If we can do that then hopefully a medal will come from it.
Q. Do you ever get scared before a race?
Jade: I don't really get that nervous before a race so where I was for the downhill (being last out) that was quite different for me and I had to deal with that. Caroline does seem to get a bit nervous but we're two different people so we have to really talk about what we have to focus on. For example, whether I'm going to be fast, if we're going to focus on my hand movements or just doing a clean ski. We also try to eat a lot to calm the adrenaline.
Q. Do you have any rituals that you perform before a race or any lucky charms that you wear?
Caroline: I personally have a lucky charm, a St. Christopher which I have worn since I was probably about your age. It's a saint for safe travel which helps me in everything I do!!
Jade: We just have the same routine where I punch Caroline that's the 'main routine' we have!!
Caroline: We do special warm-ups so that we are in sync and we'll just talk about the run and what we want to achieve from it.
Jade: We try not to change anything too much before a race.
Q. How does it feel to win three Paralympic medals?! Were you expecting it?
[Both show medals to the screen!]
Caroline: I think if we looked back six months ago when me and Jade started together we would have never thought we would have won three medals, let alone one! We're just really happy. Obviously, we were a bit upset we couldn't get the gold in the slalom but we've got two more races to go and we're in a position at the moment for the Super Combined. We've prepared for silver but if we do our best hopefully we can go for gold!
Jade: Because we started skiing together so late in the Paralympic cycle. It took a lot of hard work to build our partnership. It took a lot of dedication, you sacrifice a lot and you just need the support to carry on and really focus on your aim. Whether that's at school, at home, in a sport or any activity that you do - you need to aim high otherwise you'll never get there. That's what we did!
Q. Before you started skiing together did you feel you needed to have a good friendship where you were able to trust each other? How did you build your friendship?
Caroline: Me and Jade started together in April and we only got on the snow together in August. From April to August we built a relationship off the snow so Jade taught me how to take her around town and what I need to let her know about steps and things that contrast against one another. For example, a black step against a concrete step. So we built a relationship! [both laugh]
Jade: We just decided to have fun with each other and be really honest with each other before putting ourselves in that intense racing environment. Then when it did come down to that we weren't worrying about how we were working together - we were concentrating on our skiing.
Q. Do you ever have a time off from training and what do you do in your free time? (from Chloe)
Jade: We don't have much free time - this is what we do in our free time!
Caroline: We started together in New Zealand and everything since then has been long camps! As we started so late in the season we had to take ever single opportunity we had on snow together to race and train.
Jade: We tried to fine-tune our routines so when we got here we didn't have to worry about the pressure and we knew exactly what we were doing - it's like revising really!!
Caroline: When we do have free time we take it as a great opportunity to rest our muscles and I like to reset my mind! Memorising the courses so that I can guide Jade can get very stressful at times. It's good to definitely rest and recuperate!
Jade: We like to watch Miranda a lot! [both laugh!]
Q. After the Paralympics, what are your aims and ambitions for the future in the sport?
Jade: We haven't really decided yet - we've still got two more races to go! So I haven't really thought about what's going to happen after! We just want to concentrate on the last part of the Super Combined G on Friday and our race on Sunday. Then we will probably celebrate with our medals, get back to our families, and have some time to relax and re-focus about what we want.
Q. What advice would you give young people who want to be involved in downhill skiing?
Caroline: For guides, that's my part of the job, I would give advice by saying guiding is very specific to the athlete. I started off also doing some instructor courses and I found the development coach of the British Disabled Ski team who was offering an opportunity to guide Jade. That's how I got into it - loved skiing at an early age and wanted to do something more with it!
Jade: Just go to your local snow dome and dry ski slope - that's how I started out in it. I think go to wherever you can get snow - whether that's in the UK or on family holidays. Skiing is such a small world and everyone knows everyone. Disability SnowSports UK is how the ski team was started. They teach people to ski from the very beginner all the way up to elite level. You can find information online and hopefully, with our success, it's going to be more accessible for everyone to start and enjoy skiing!