Curling skip aims for clean sweep - Aileen Neilson on Sochi 2014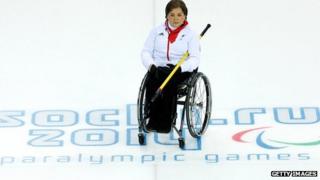 Aileen Neilson first picked up a curler's cue in 2004 and through a combination of hard work, talent and fierce determination she became the first female to skip a Paralympic curling team at a world class level during the 2010 Games in Vancouver.
She is the British wheelchair curling skip and was the only female skip in Sochi 2014, leading her side to a bronze medal after a thrilling play-off against China.
South Lanarkshire Council granted her a three-year career break from her job as a primary school teacher to focus on her Paralympic quest.
She spoke to School Reporters from Craigholme School during the competition to share her hopes.
Q. How did the success of the Olympic British curling team in Sochi affect your feelings for the Paralympic team?
It was great to watch the Olympics and we have been so inspired by the success of the GB athletes and so proud and pleased for the GB men and women returning with silver and bronze.
Q. How did you focus your training in the run-up to the Sochi Paralympics?
We had a holding camp in Stirling and have continued to maintain our training programme as we have all season, simulating game times in Sochi. Our focus continues to be on technical ability, tactical awareness and team dynamics.
Q. You previously said you were excited for the Paralympics, how have these feelings changed?
Now we have arrived in the village it has been great to familiarise ourselves with the village and our venue.
Q. Do you have anything that you feel brings you luck when you are competing?
We all need a little luck but what helps us most is knowing all the support we are receiving from all our support staff and friends here in Sochi and all our friends and family back home.
Q. Who have been your main supporters?
We have had huge support from British Curling, UK Sport, the National Lottery, Sportscotland Institute of Sport and the Royal Caledonian Curling Club. The British Paralympic Association has given us a fantastic welcome and has also been a huge support in our warm-up to the event.
Q. On the days when you will not be competing, will you be watching any other events? What would you like to watch?
We have a busy curling session but on the days when we only have one game we may catch a sledge hockey game. With many of the venues being located in the Park, it is great to be able to "push" to the venues. We will also be able to catch up with all the action in the village and cheer on the other GB athletes as they compete in their events.