Social media use 'cuts pupils' sleep', School Reporters find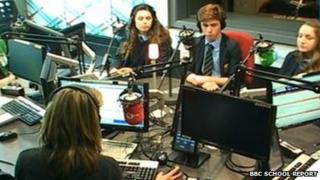 Pupils from a school in Cheshire are regularly going to bed in the early hours because they are constantly on social media, a survey has discovered.
A poll of 250 students at Tarporley High School revealed the teenagers spend an average three to four hours on the social networks every night.
Fear of "missing out on something" was cited as the main reason for students sacrificing sleep.
The survey was conducted by students taking part in BBC News School Report.
Fourteen-year-old twins Chris and Ollie asked fellow students about their social media habits and sleep patterns, which have been revealed to be a main reason why they are tired when they go to school.
One replied: "I've been up until about 3. You feel you have to hold your eyes open and if you put your head down on the desk, that's it then you will fall asleep straight away. I was falling asleep in English."
Another said: "It's mentally draining. You get up the next day and you can't seem to concentrate on anything."
The Cheshire school's Deputy Head Teacher Lyndsay Watterson expressed shock at the reasons why pupils were overtired and pledged to take action.
She told BBC 5 live's Victoria Derbyshire show that she would normally put tiredness at school down to the pressures of GCSEs and A-levels and admitted that she did not think use of social media was a factor before the School Reporters approached her with the results of the survey.
Ms Watterson pointed out that students were often not willing to share the information that social networking was responsible for tiredness for fear of the technology being confiscated.
She conceded she could not influence what the children did outside of school hours but pledged to raise awareness of the issues the School Reporters' survey found with parents.
Jill Macmillan, a teacher at the school, said the School Reporters' research and findings had made her more aware of the issue regarding her own teenagers.
She said that while she did not think there was an issue in her own home and made the point that removing technology from young people was often seen as a sanction for bad behaviour so it was not an easy option for parents to take.
The School Reporters also interviewed parenting expert Dr Clare Halsey, who specialises in sleep.
Her advice was to switch off all devices at least an hour before people needed to fall asleep.
She told them the effects of lack of sleep included negative effects of concentration and attention which would affect school performance.
She said: "It's staying awake that's the problem. If you're watching out for the next thing on Facebook or want to be included with friends, you're alert, you might even be anxious and it delays sleep."
Christine Blower, the General Secretary of the National Union of Teachers, said the problem needed to be solved by both schools and parents.
"It is of course difficult to know the amount of time young people should spend online but certainly parents and schools should work together to ensure that the message is given that use of computers and social media late into the night is not beneficial," she said.
"Equally, instituting a regular bedtime and ensuring there are no computers or TVs in bedrooms, or at the very least they are turned off would certainly help pupils know there is a time to switch off."