Exploring cross-community links in Cardiff's Butetown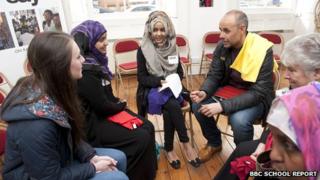 The BBC's World Service has teamed up with radio stations across the UK to produce a series of special programmes looking at issues affecting local communities.
Three School Reporters from Howell's School in Cardiff went along to the first of these broadcasts, linked to BBC Freedom 2014, from Butetown Community and Arts Centre, which focused on the relationship between the area's Somali population and the wider Welsh community.
Sajida found the experience very thought provoking.
"Just to see opinions from both sides was so interesting," she said afterwards.
"I thought of the situation in a completely different light and I could see both opinions as to how integration is so important for British and Welsh life.
"I thought there was a very big segregation between whites and non-whites (Somalis) but, after listening to the opinions of a pub owner and a housing officer, I could see they had experiences of the Somali community which I never thought they would have encountered before," she said.
There is always room for both the Welsh and Somali communities to improve integration, Sajida said.
"I think that they are on the right track now and if they push a bit more it can work successfully," she added.
'Absolutely fab'
As for the experience itself of being involved in a live radio programme, Sajida agreed it was one she would always remember.
"The fact that the camera is not there makes people open up even more and the opinions were expressed really well."
Fellow School Reporter Ethar thought the whole event was "absolutely fab... I loved it. It was really great and so fun. I would love to do it again."
"I didn't expect this," she said. "I thought that the whites were intimidated by the Somalis but that is not the case at all. They want them to come and integrate and socialise with them and I didn't expect that at all."
And, asked about whether the day had encouraged her to come into Butetown more frequently and find out more about the Somali community, Ethar said that while she had never felt threatened to come to the area, the event had definitely made her "want to look into the reasons why people feel threatened here".
Melissa comes from a rural part of Wales - the Vale of Glamorgan - and admitted she did not know very much about the Somali community before attending the broadcast.
"The only time I ever see them is when I drive to Cardiff, so I don't really have the knowledge of them. It was really interesting and really good (to gain more knowledge)."
She also found the chance to witness a live broadcast was rewarding.
Inspiring
"I have always wondered what it is like to be on a radio show and it is really interesting to see what they are like and how they go about doing it," Melissa added.
She was pleased to have the opportunity to ask a question herself, about why one in 10 Somalis work and whether they encouraged people to look for work experience.
"A guy said that he runs a work experience programme and they all encourage volunteering. It was really interesting," Melissa said.
And looking to the future Ethar, for one, thought the event might inspire her to consider a career in journalism.
It is "definitely a plan I could look at. I enjoy it, so it might be an option in the future."