30,000 take part in School Report 2014
27 March 2014

From the section

Home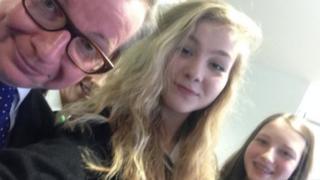 Autism and healthy eating, selfies and samba were among the subjects covered by more than 30,000 students from more than 1,000 schools on the eighth annual BBC News School Report News Day.
Other highlights included an interview with Education Secretary Michael Gove, who told School Reporters that teachers should be paid more.
He also gave the students a demonstration of his rapping prowess.
Pupils had to publish reports by 14:00 GMT on their school websites.
Each school's website was linked to from an interactive map on the BBC News website.
Throughout the day, more than 100 pupils visited New Broadcasting House to meet some of the teams that work in the BBC's central London headquarters and School Reporters also worked throughout the day in the BBC's newsrooms in Birmingham, Glasgow, Cardiff, Belfast and Newcastle.
A special edition of The One Show was co-presented by Newsround's Ricky Boleto, Leah Gooding and School Reporters from Paddington Academy and Lambeth Academy in London and William Farr School in Lincoln.
The one-off programme featured reports from across the country and Great Britain Winter Olympics gold medallist Lizzy Yarnold was interviewed live in the studio..
The day certainly had a focus on education with interviews with shadow education secretary Tristram Hunt, Liberal Democrat schools minister David Laws, as well as the interview with Mr Gove.
The day started with reports on Alzheimer's and autism on the BBC's main radio breakfast shows, the Today programme on Radio 4 and Radio 5 Live Breakfast.
Later on in the morning, School Reporters from Bryntirion Comprehensive School in Brigend took charge of the editorial output and co-presented the Jason Mohammad show on BBC Radio Wales.
They covered subjects including the future of coal mining in Wales, whether Welsh language lessons should be compulsory up to GCSEs and interviewed some teenagers in Aberdeen about 16 and 17-year olds having the vote in this year's Scottish referendum.
Radio Humberside was also taken over by School Reporters, with pupils from Cottingham High School, Melior Community Academy, Hull Collegiate School and Sirrius Academy in Hull co-presenting the show.
Among the highlights was an interview with students in Finland, who will be taking part in their country's first ever School Report equivalent next month.
Much of the BBC's output was influenced by the young journalists, with School Reporters presenting the 13:00 GMT Sport bulletin from Salford and weather bulletins in the English regions during the 18:30 GMT bulletins.
Students at Lagan College in Northern Ireland reported on the importance of integrated education among the country's Catholic and Protestant communities.
And students at Ross High School in East Lothian held a mock referendum on Scottish independence - which returned a "no" vote.
A live text page ran all day updating the BBC's News website audience with all of the latest developments on what proved to be an extremely busy news day.
School Reporters had already taken part in broadcasts prior to News Day.
On Tuesday, Isabel and Emily, from John Cleveland College in Hinckley, Leicestershire worked alongside regular presenter Jane Garvey to co-present BBC Radio 4's flagship weekday show, Woman's Hour, where the topics covered included online bullying and exams pressure.
And students from Whitley School in Coventry and Thornden School in Hampshire wrote about how they took part in The Danny Baker Show's iconic Sausage Sandwich Game on BBC Radio 5 live.
Meanwhile, School Reporters Imaan and Esmé from Elthorne Park High School were invited to interview the stars of the Muppets Most Wanted film after attending an exclusive screening a few days before.