BBC staff become students as they take on the Hour of Code
4 March 2014

From the section

Home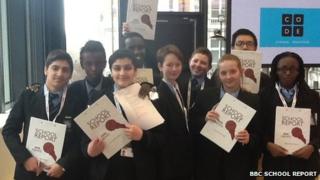 The Hour of Code was introduced to the UK to coincide with the 25th anniversary of the launch of the World Wide Web.
BBC staff around the UK were invited to bring their lunch and their laptops to drop-in sessions to sample the code.org scheme, which aims to teach people the basics of computer programming in 60 minutes.
School Reporters from Lambeth Academy in London and Montgomery High School in Blackpool were at the respective sessions at New Broadcasting House in London and MediaCity in Salford, to help.
The students were reporting on how BBC staff took to the online tutorial which was modelled on the game Angry Birds.
This year is a big one for coding because computing becomes a compulsory subject in England's National Curriculum from September.
Lambeth Academy has already built an app modelled on the Flappy Bird game, which attracted headlines earlier in the year.
The students all agreed with colleague Emeline that they were surprised by how little BBC staff knew about coding, even though they used computers every day!
THE POWER OF CODING
Before the session started the School Reporters from Lambeth Academy were talking about the reasons why coding is an important skill to have.
Their reasons included: "There will be millions of jobs involving code", "Everyone who knows how to code could have a million pound app" and "Because coding is used on a daily basis in 2014".
When they asked BBC staff why they had come to take part in the Hour of Code, some were very clear about their objectives:
Reasons given by staff included "I am interested in getting into coding for my son" and "It was something I had never done before and I wanted to learn about it".
Others were less clear, saying: "I know it's important, but I don't know why" and "I think it's very useful but I don't know how I'll use it".
The students from Montgomery High School also explained why coding was so important to them.
Cordelia said: "Without coding you wouldn't be able to do so many things we take for granted. It's been so nice to be able to help people understand the importance of coding."
"It's been great to see the moment people 'get it'. It is a real sense of achievement for me that I helped them do that," said Daisy.
Adam said: "Most people got it really quickly, I was really surprised."
Mitchell said: "Anything like this that can spread the word has to be a good thing. Coding helps change so many things in our life. Without it we wouldn't have what we see as basic things like the satnav or even the internet."
"Without coding everything would be so slow - it speeds up everything we do," said Katrina.
Luke also interviewed Newsround presenter Ricky Boleto, who was at the event to learn about coding and revealed that he had never previously learned about the subject.
Ricky added that the event had inspired him to want to create his own app.
At the end of the London session, students asked staff what they thought about the hour they had spent coding. These are their questions and some of the answers.
WHAT DID YOU EXPECT FROM TODAY?
"I was expecting it to be a bit more confusing but I thought it was well-organised."
"I wasn't exactly sure what I was expecting - I thought it might be a bit more complicated than it was. Once I got used to it, it was fairly easy to understand."
"Quite a basic introduction to coding, what it's used for and how to do it."
"A basic introduction and what goes on behind the scenes of the website."
"I expected to get a very basic understanding of code. I didn't expect it to be Javascript so that was fun...."
"I did coding a long time ago so it was nice to have a little refresher. It's a really good programme for teaching people how to code because all the essential bits of coding are in there."
WHAT WAS YOUR FAVOURITE PIECE?
"The whole experience was good."
"It was interesting how it took you through from the absolutely simple to the very complicated. It was a good progression."
"Completing it, knowing I had actually achieved something instead of aimlessly walking around Oxford Street for an hour."
"I particularly liked the part where it showed where the coding was used on the BBC website. As it got more complicated it got more interesting and I liked how they used the repeat on the BBC News audio/video carousel."
"When I finally cracked the code at the end of it. It was quite difficult but I managed to do it!"
"I think the last one because it actually made me think. I thought I had got it right first time but I actually hadn't - I got it completely wrong!"
"I quite enjoyed the looping and using the what if and now statements in the programming. The conditional decision-making and programming which is the more difficult stuff - that was good."
WILL YOU BE USING CODING IN THE FUTURE?
"Yes I will take an interest in it. It is not a part of my work, but I will keep a look out for it in the future."
"I might do - I hadn't thought about it before but I might do now."
"Yes I think I will follow it up and see how I can use my coding skills."
"Yes definitely and look further into how I can get a bit better at it."
"Definitely, definitely - any opportunity I can get."
"It has always fascinated me and I'll definitely do it in the future."