World samba band record smashed at Royal Albert Hall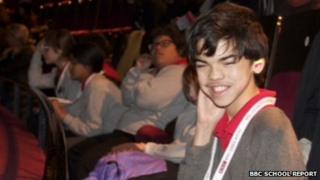 More than 1,500 children have broken the record for the world's largest samba band in a performance at the Royal Albert Hall in central London.
The students, aged between seven and 16, came from 27 London schools in an event which aimed to highlight the plight of street children around the world.
It also marked the UK launch of the Street Child World Cup, which kicks off in Brazil on 28 March.
The musicians had to play the piece three times and then wait to see if they had broken the record while adjudicators checked everything had gone to plan.
When it was announced that they had been successful, huge cheering erupted in the auditorium.
School Reporters from Joseph Clarke School in Waltham Forest were there and this is their report:
We have just witnessed the world record for the largest samba band at the Royal Albert Hall.
The record has been broken! Over 1,500 children played in the band today.
We enjoyed watching the world record attempt (and in the interval) listening to the Hobbit, a beat-boxer making "funny noises with his beautiful mouth" and the audience joining in.
We also enjoyed listening to LIFT sing and tell their stories of homelessness and encouraging people not to be "potatoes", reminding young people that "I am somebody" and listening to the "I am somebody" anthem and doing the dance actions.
The Albert Hall was amazing, huge, posh and had lots of doors.
Alex, 14, said his favourite bit was the beatbox while the highlight for Andrew, also 14, was being there when the record was broken. He also met the Arsenal mascot!
That was also the favourite part of the day for 15-year-old Iqra who liked the inside of the venue but thought it looked boring from the outside!