The fantastic world of fangirling and visiting Radio 1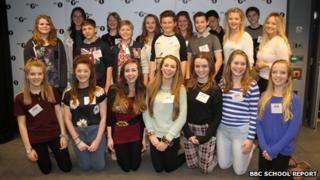 School Reporters from Corfe Hills School in Dorset were given the opportunity to visit BBC Radio 1 as part of its, and sister station 1Xtra's Access All Areas initiative, during which a studio - and its staff - were handed over to listeners for a week to use in whatever way they chose. Here is the students' story.
VISITING THE BBC
As part of BBC Radio 1's Access All Areas project we got to visit the studio and share our views on what it's like to be a teen. This was a very unique, once-in-a-lifetime opportunity that unfortunately not many people our age get.
Beth said: "My trip to the Radio 1 studio for Access All Areas was fantastic. I'm so pleased I got the opportunity to go and to represent Corfe Hills School, along with other students.
"From that day I have gained a wonderful experience and I'm so grateful I got the opportunity to take part. I have to admit, I have gained confidence as before I was very nervous. It will be a great thing to add to my CV and I thoroughly enjoyed the trip."
THE FANTASTIC WORLD OF FANGIRLING - by KEIRA
For teens, music is important. It gives us a break from every day pressure and it is inspiration we can use in our own lives.
However, our opinions on music vary significantly and each person has a strong view on which music is best. This makes strong dividing lines within friendship groups and can even ruin friendships.
Some young people might even change their opinions on music just to fit in and exclude themselves from arguments. But this is not always enough, as even within the same genre there are disagreements about bands, songs and even which band members are best.
Additionally, you could be accused of not being a real fan for not having the latest merchandise, not going to concerts, or not liking every detail or band member.
This puts pressure on parents to buy their children as much as other fans might have. It also puts pressure on us to keep up with what the bands are doing. This has become so much easier, due to social media, where you can instantly keep up with your favourite superstars.
This might seem great to us, being able to know the stars' every move all day, every day, but this can affect our schoolwork, homework, home life and social life.
Therefore is every second you spend obsessing over your favourite singer really worth it? In contrast, knowing details about our idols' lives can help us relate to them and aspire to be like them.
Even though when this becomes obsessive it can hold us back, is there really a problem with fangirling?
BEING A TEENAGER
These are some of our views on what it is like being 14.
We wanted to do this as we think if more people had chances like us to speak their minds they would not only feel heard, but would also have increased confidence and social skills.
This is why we think there should be more ways for teens to speak their minds while listening to others' views and opinions, like school council within schools and, more widely, organisations like the Youth Parliament.
However not everyone can take these chances, as they feel uncomfortable doing something that might be seen as "dorky". This can be a real issue, because many people feel that popularity is the most important thing and will miss out in other areas to keep up with an unrealistic version of themselves, just to please people who might not even be their friends.
Another thing that might hold people back is money, as not having enough means you'll face all sorts of challenges to speak your mind. This could be something as simple as transport and not being able to get to events, meetings or debates, all the way to going to less-known schools and opportunities not being advertised to you.
When everything goes right there are great chances out there for everyone to speak their minds, but is it enough?