Carisbrooke College School Reporters on why debating is good for you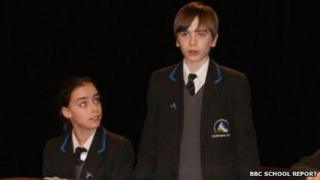 Young people from the Isle of Wight are among thousands of students taking part in the early stages of the RIBI Youth Speaks challenge across the UK, competing in school, district and regional competitions.
The competition encourages 11 to 17-year-olds to experience speaking on a public platform after formulating arguments on a topical subject.
It comes just months after regulator Ofqual decided that speaking and listening was to be removed from assessments for English and English Language GCSEs this academic year.
Ofqual said in August there was "inconsistency" in how schools set and marked the controlled assessments and the change had to be made immediately to "protect standards".
School Reporters from Carisbrooke College in Newport joined Christ the King College and Ryde School with Upper Chine in the first round of the island's section of the competition on 7 February .
They said they were disappointed speaking and listening was not being formally assessed any more.
BBC News School Reporter Finlay asked fellow student Noah about taking part in the Youth Speaks competition.
Q - What was your debate about?
A - Our debate was about the use of genetically-modified crops and whether or not we should grow them in the future.
Q - And what did you decide?
A - I thought that we should not grow them because there were too many risks and negative impacts.
Q - Who won?
A - Christ the King College won - they didn't give second, third and fourth places but I think we would have come second!
Q - What is the good thing about learning debating?
A - I think that it's a very good skill. My Mum said she got very nervous when she had to do it in her job for the first time and suggested if I learned to do it earlier it would help me as I got older.
Sophie interviewed Finlay
Q - Why did you join the Youth Speaks competition?
A - I joined because I thought it would be quite fun and I enjoy debating.
Q - What was your debate about and why did you choose that topic?
A - Online shopping, because there have been a lot of doubts about the safety of online shopping and I was interested to find out how it started and what people thought.
Q - What concerns do people have?
A - There have been stories about people getting hacked and thieves being able to buy things on someone else's account.
The School Reporters then asked their teacher, Ms Lingard-Lane, who entered them in the competition, for her views on debating and changes to the GCSE assessment.
Q - Do you think that taking part in a debating session was worthwhile and was worth us missing other lessons for?
A - I think this is a really important activity for some students to have a go at, as being able to debate is a real skill and it's useful in life. It will help you when you go further on in your education. Through this you've been able to look at two sides to an argument and produce a lengthy argument for one side of a subject.
You've used researching skills and the internet, developed your own writing to quite a high level and then had to present it to an adult audience, which is quite a difficult thing to do. It's given you confidence and will help you see two sides to a story, particularly in lessons like Ethics and History.
So you've had a lot of practice in forming and delivering ideas to other people
Q - Do you think it would be a good idea to have debating as part of the curriculum?
A - Currently we do speaking and listening in English, so you will be doing hot-seating activities, presentations and drama activities which get you confident speaking to an audience and thinking about the way you present yourself. So you're already getting an element of that.
Unfortunately, from this year, speaking and listening won't count towards your GCSE grade, which is a shame as I think it's a skill you need in life to be able to communicate and I fear we're losing that.
Q - Would you encourage other students to do this outside of their lessons?
A - Absolutely, I'd love to see you do it again and get other students involved, and next time it would be easier to know how we can maybe win!