Stars of CBBC's Dixi talk about the importance of social networking safety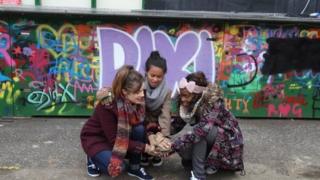 Dixi is a brand new online comedy drama from CBBC which explores the creativity of the internet, the potential dangers of social networking and the real-world consequences of cyberbullying.
Teenager Shari's entire life is on fictional social network Dixi - from chatting to friends and sharing pictures to posting funny vlogs. Then her page is hacked and she is locked out.
To Shari, it's the end of the world, but with the help of her closest friends she sets out to discover who "murdered" her profile page.
Head writer and director Dan Berlinka, along with Claudia Jessie who plays Shari and Kerry Boyne who plays best friend Isla, took some time to answer questions from Marple Hall School Reporters.
Q - What is it like to play the role you have been given?
Claudia: "I play Shari, who the story is based around, and she shares a lot on Dixi - her life is Dixi. For me, I had a lot of freedom with the character and creative input which was really nice. I've never played a lead in anything before, so I was really nervous and wanted to do a really good job. The fact that I was allowed to have my own input on who Shari was, was great - she's bonkers! So it was nice to challenge myself to make her really loveable as well."
Q - What was it like auditioning for something like this, which is different to what you would normally do?
Kerry: "It was great because it's so current and it measures what's going on in society today, and I think it's really important for this content to come out for people to view and understand it for themselves."
Q - What have you learnt about the internet?
Both: "Safety settings!"
Kerry: "I just think you need to be mindful of what it is that you want to put out there, because it will always be there, and you don't want repercussions - just be mindful and watching what you do."
Claudia: "It also shows the importance of friendships in real life. The internet is a wonderful place to connect with people and for people who don't necessarily feel like they have a voice in society, but this show really expresses the importance of friendship and that these social media platforms are wonderful but should act as a catalyst for your actual real life friendships."
Q - Who came up with the storyline?
Dan: "It was originally meant for TV, and then Cheryl Taylor, who is the controller of CBBC, decided to put the show online. I knew the team at Kindle and put my hand up, you know, I love the internet! The story was there as a concept, but then when we knew it was going to be online we developed it further and made it suitable for the vlog format."
Q - Is there a dramatic conclusion?
Claudia: "YES!! There's a massively dramatic conclusion. The finale is unexpected but it's really fun, and throughout the show you're taken down different pathways to solve the 'whodunit' mystery, but it's fun and unexpected."
Q - Why the name Dixi?
Dan: "We were looking for a name for the networking site and I was sitting in the Kindle offices, looking through Latin books because we thought Latin words are really cool. Dixi came up and it means 'I have spoken' and we all thought that's a great name for a social media network!"
Q - How has being on the show changed your view on social networking?
Claudia: "I think it's really important that we never lose how special friendships are, person-to-person friendships. We live in a time where everything is instant and everything kind of happened yesterday, and that's fantastic in terms of how we are progressing, but nothing is more important than the ordinary person. There should be a really nice balance between the internet and real-life relationships."
Q - Did you use social networking sites to help with your role?
Kerry: "I'm already on Facebook and Twitter, so I was already engaged in that world. It's more realising the fun elements you can have through social media, so that helped develop our characters - kids really enjoy the internet so it's that element we needed to capture as well."
Q - What is the best way to stay safe on social networking sites?
Kerry: "Privacy settings, definitely, maybe not have it so open so that everyone can view it, keep it strictly to your friends."
Claudia: "Being conscious of the sort of things you post. What you'll notice in the show is that Shari, as lovely as she is, just doesn't really think sometimes as deeply as she could or should. So be careful of what you do online, as it's not separate from what you do in the world, it's all connected and it's always there. Think before you type!"
Q - What is your opinion of social networking sites?
Kerry: "I think it's a great way of connecting with people, especially if you have friends or family that live all over the world. It is a way of keeping those friendships. There are dangers that can come with it if you're not careful and not mindful of what you're putting out there. But I think it's important to remember that it is meant to be fun and not a very serious thing, it just tends to get serious if you don't think before you post…"
Claudia: "I think great movements and initiatives have started online, on Facebook and similar sites, where one person might have started it for the benefit of something happening in the real world and people have then joined in. It's very good for that type of things."
Q - How could you download it to your tablet?
Dan: "Dixi is not a downloadable show; you can stream it from the CBBC website."
Q - Have you ever experienced cyberbullying?
Both: "No"
Q - Have you ever been addicted to any form of social networking?
Claudia: "I think there's a strong potential for you to get lost in it. Personally I think that's the danger, you can get lost in something else that's not you, if you're for example looking at someone's photos for hours upon end and then going onto their friend's photos and then their friend's photos and so on, kind of finding happiness and entertainment outside of yourself. That's something to be cautious about, as that can bring unhappiness instead."
Kerry: "Actually, I once came off Facebook for a while, a long time ago, purely because I felt like I was getting lost in it and I didn't feel like it was very productive. My emotions would be going up and down and you would look at what other people were doing, and think 'what am I doing?' and start questioning yourself. It's good to have a break from it sometimes to focus on your own life."
Q - What should be done to stop cases like this happening to innocent people?
Claudia: "The thing is, these sites are platforms and catalysts as to why things like this are happening but the platform itself is not to blame for the intent with which users go on it or use it. You can't close down Twitter because people are abusing others or are being abused. Yes, you should very much crack down on these things and monitor it closely and have policies that address issues quicker, but it actually comes down to the individual person and why they would do this, which is the issue that needs to be tackled. They're in that sense a tool for why these things can happen."
Q - With Facebook passing its 10th birthday, do you think social media will increase and become more popular or begin to deteriorate?
Kerry: "There is that debate at the moment and some people are saying that Facebook is on its way out potentially, but I think it's just going to continue to grow. People are so used to social networking, some of my friends even use Facebook to contact me rather than call or text me, which is crazy because there's nothing better than to hear someone's voice, but I think it will keep going up and increase."
Q - What is the message behind the programme?
Claudia: "What's beautiful about the show is that it shows the strength and importance of friendship and forgiveness, and the importance of situations being resolved. We don't live in a second chance sort of society, we unfollow people really quickly, we dislike things on YouTube etc, and it's all really quick. But what happens through Shari's story is that she makes mistakes and she gets caught up in Dixi, she's obsessed with it, and there are fall-outs with friends but in the end it is all resolved - in person. And that's the beautiful thing about this show, the importance of the real life resolution outside of the social network."
Q - Why did you choose to shoot it in a "selfie style"?
Dan: "Very early on we made the decision to do it within a social networking format and make the character tell us the story through vlogs, it was a very early decision. Once we knew that Shari was telling the story through vlogs it became obvious that Shari needed to film it all, and our influence was YouTube, it made sense to shoot it in a first person 'confessional' format."
Q - How will Dixi help children and parents engage?
Kerry: "I think it will help them think about how social networking can affect other people around you and that snowball effect it can have on your environment."
Q - And who is you favourite actor?
Claudia: "Olivia Coleman"
Kerry: "Robert De Niro"