George North hopes to play for a Welsh team again in the future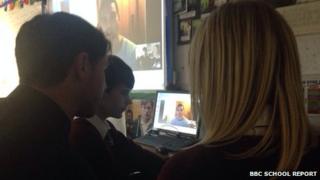 British and Irish Lions winger George North has revealed he hopes to play for a team in Wales again one day.
North, who joined Northampton Saints from Scarlets last summer, was speaking as Wales continued their defence of the Six Nations Championship.
Talking to School Reporters from Ysgol Eirias in Conwy, he also explained what he might have done if rugby hadn't been his career.
And the Welsh-speaking star outlined the benefits of being bilingual.
He took time out from training to speak, via Skype, to School Reporters Akasha, Sam and Kezia.
Q - What do you do in your spare time?
A - I would like to say I do lots of interesting things, but because we train so hard in the day it's nice on a free day to just relax, go to the cinema, go for a coffee with a few of the boys and get something to eat. I shouldn't say, but I like to go on the PlayStation, just chill basically.
Q - How old were you when you started playing rugby in a team?
A - I started when I was about 11 or 12. It was my brother that got me interested actually. He came back from a practice raving about it and I thought I'd also give it a go.
Q - How many hours a week do you dedicate to rugby?
A - I train for seven hours a day, from 08:00-15:00, but that only happens on Monday, Tuesday, Thursday and Friday. I have a game on either Saturday or Sunday.
Q - If you weren't a professional rugby player what would you choose as your profession?
A - I would like to say I would be a brain surgeon but, if I'm being honest, I would hopefully be finishing university - not a brainy job - probably a trade which I can apply myself to, like helping my dad with his business. I couldn't do an office job, I would have to be active.
Q - Out of all the professional teams you have played for, which was your favourite?
A - Well, Wales is up there as I do enjoy playing for my country but I am enjoying my time at Northampton at the moment. I really enjoyed playing for my first club (Scarlets) as well, because there was less pressure and you could enjoy the game more.
Q - Do you think it's likely you will come back to playing [for a club] in Wales?
A - Well if they take me back, I hope so! I have been up a few times to visit, so hopefully - I know my mum would like it!
Q - What is it like being one of the current best rugby players in the world?
A - (laughs) I don't really know, I've always looked up to people and tried to be as good as them and the best that I can be. It's one of those situations where you just have to keep going until you have to stop.
Q - How has speaking Welsh helped you and how often do you get a chance to speak it?
A - A lot of the boys in the Welsh team speak Welsh and it's also helpful if I play for a different team to know a few words. Rhys Priestland, Mike Phillips, Scott Williams, Jamie Roberts, Rhodri Williams, Rob Jones, Andrew Phillips - now there's over half the squad that speak Welsh. I speak Welsh to my mum and brother, so I speak Welsh every day.
Q - Eirias High School is on the same site as Eirias Park, the home to Wales Under-20 team during their Six Nations. Did you ever play at this venue?
A - I did actually, I played in a really close game against Australia. We lost it by a point or two but I remember how close we came to winning. The facilities there are great now, the barn, the coaching set-up and I've seen a few games on TV held there.