Gavin & Stacey star Mathew Horne admits to secret juggling skills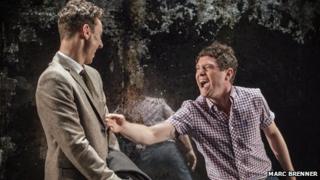 Mathew Horne shot to fame in the BBC comedy Gavin & Stacey but has had a variety of roles over the years.
The actor, writer and comedian has also appeared in The Catherine Tate Show and Bad Education for the BBC, ITV's Doc Martin and 20 Things to Do Before You're 30 and Teachers on Channel Four.
Mathew is currently appearing on stage in a revival of The Pride but took time out from his busy schedule to answer questions about his career from School Reporters.
Q - Which actor would you like to play you in a film or on stage?
A - Joaquin Phoenix! He's one of the greatest.
Q - Which actor or actress would you like to work with that you have not had a chance to yet?
A - Jane Horrocks, although I've been fortunate enough to work with many great actors who I admire and have grown up with.
Q - What is it like to play multiple roles in one play?
A - It's very challenging, but at the same time fun, because it's always changing.
Q - What was your first audition like?
A - I don't remember - it was probably so scary I've blocked it out!
Q - Did you ever have any doubts about becoming an actor?
A - Definitely. I had no idea how I was going to achieve it.
Q - You have played a lot of comedy roles. When did you realise that you had the ability to make people laugh?
A - When I was about nine years old in a play at primary school.
Q - Why did you choose acting as a career?
A - I liked making people laugh and it was the only thing I could do apart from play football.
Q - . What is the craziest thing that has ever happened during filming or on stage?
A - Too many to mention! Meeting famous people or people I admire and them knowing me and my work is pretty crazy.
Q - What do you love about your job the most?
A - All of it! But I guess mostly working with really talented bright people.
Q - Do you have any secret talents?
A - If I told you, they wouldn't be a secret! Though I can juggle.
Q - What is the best part of being an actor?
A - Not having to work in an office!
Q - What advice would you give to young people looking to become an actor?
A - Persevere and focus on what you want.
Q - If you weren't an actor what would you be?
A - Unemployed.