Education Act: How schools have changed since 1944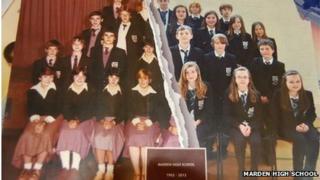 The 1944 Education Act guaranteed free education for every child in England and Wales.
It also divided schools into primaries and secondaries and aimed to raise the school leaving age to 15 and, as soon as "practicable", to 16.
However some of these changes took years to bring in.
For example the government raised the school leaving age to 15 in 1947 - but it was not until 1972 that the leaving age rose to 16.
In the same year, the last elementary school, which took pupils from the ages of five to 14, was closed and since then education has continued to change.
School Reporters at Marden High School in North Shields have been investigating how their education is different from that of their grandparents.
The school celebrated its 50th anniversary in 2012. Some of the reporting team helped produce a booklet to mark the big birthday and they talked to local senior citizens about their memories of school.
This story can be used as a starting point for your school to also report on education in the past, present and future.
Punishment
Talking about his educational experiences, one man told us: "We were caned for many things such as having messy hair".
In the 20th Century, corporal punishment was still widely used.
Now we have different methods and rights that prevent these kinds of punishments being used.
Inclusion
In the mid 20th Century, girls and boys were educated separately in secondary school and there was very little education for those with special needs.
This, when changed, caused controversy, because people believed girls were not as clever as boys, and should do different subjects.
The discrimination towards girls and those with special educational needs meant that it was difficult for them to get an education and prove them wrong, which they later did. But this meant that for a long while, women and those with special needs were regarded as stupid.
This had to change and it eventually did as they found that they were equally clever.
Change in curriculum
Over the years, school curriculum has been subject to various different twists and turns.
With subjects rooted in new technologies storming across the education board, modern students are left with an excellent overall range of learning.
However, the big question is, will these new-age methods prepare our children for 21st Century life or are the old ways the best?
Impact of new technology
The use of technology in education has vastly increased since the Education Act in 1944. Only recently has technology taken off in schools and been noticed globally.
Many students now have full access to tablets and smartphones within school, whereas before, schools had minimal access to almost all technology.
It has proved to be exceptionally useful and has had a drastic impact on modern day society.
Exam pressure
The need to succeed in exams at school has increased dramatically since the mid-20th Century.
Nowadays, to be employed in a minimum wage job, one needs at least a C in Maths, English and Science.
The elderly people we talked to told us that just 40 years ago, a pupil would be able to leave school one day with no qualifications and receive a job the next.
The pressure on getting at least 5 A*- C GCSEs in this day and age is tremendous in comparison to just a few years ago!
Also, another major change is that the exams are now completely different to what they were before 1986 when previous O-Levels were phased out and the more recent GCSEs were brought in.
These new examinations were "all inclusive" so all students of any ability could take the same exam.
Risk assessment
Since the Health & Safety Act was passed in 1974, bureaucracy in schools has reached an all-time high, with vast quantities of forms being filled out on a daily basis.
Some people have come to ask the question, has it all gone too far?
Nowadays schools are expected to take extra precautions to ensure student safety, however this was not the case before the Act was brought in.