Career prospects worry School Reporters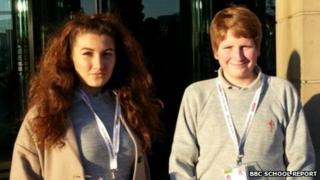 After attending an Education Select Committee evidence session with the Secretary of State for Education, Michael Gove MP, School Reporters Emilie and Ben from Cardinal Newman Catholic School in Hove reflect on what they heard.
They admitted they are unsure about how to start a career search when the time comes and their concern about the cutting of the schools' careers service.
Q - How do you now feel about the changes to GCSEs?
A - We still feel uncertain as to how the changes will affect us personally, but after listening to Mr Gove answering questions, we understand more about what the Government has done and is planning to do in the future.
Q - How did attending the Select Committee make you feel about the decision-making process?
A - We were interested in how politicians from all parties were clearly working together in the interests of students and their education and impressed with the direct and challenging way the committee questioned and challenged Mr. Gove.
Most of his answers were "very definite" and we felt that he spoke "quickly" and was "deeply opinionated" although at times we felt he was dismissive of the opinions of some of the committee.
We were sitting right behind him and felt that the way his legs were twisted around his chair showed his nervousness, but that he covered this nervousness through the confident way in which he answered questions.
Q - How do you think the decision to cut the schools' careers service will affect your first steps into the job market?
A - We both feel that Mr Gove's plan to replace independent careers advisers with visits from inspirational figures from local businesses and elsewhere was flawed because not all children will have access to people like that.
We felt that the Committee was against this plan, and this reflected our own concerns.
Q - What did you think of the atmosphere of being in a Select Committee meeting?
A - We found the atmosphere tense and some of the exchanges as 'heated'.
We had a very clear sense of the importance of the occasion and were aware that the issues being discussed involved us and our futures. We were also impressed with how the questions began on the dot of 9.30 and with how searching the committee's questions were.
Q - What do you think about your chances of getting a job in the future and how is your school preparing you?
A - We agree that the absence of careers guidance at present makes it difficult for us to know where to start. We don't know where to go for advice and are uncertain about how to go about looking for a future career.
Q - Do you still have any specific worries about your education and if so, what are they?
A - We are concerned about the level of disagreement over the education policy which we witnessed and that the people making decisions about education have so much to argue over that the results won't necessarily be in the best interests of themselves and other young people.
You can read their full report on the Education Select Committee here.