When the weather is a story for news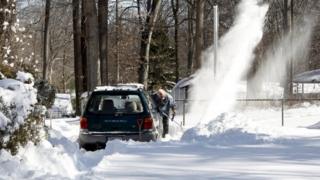 The massive snowstorm that swept across the eastern United States in late January, virtually paralysing major cities from New York to Washington, has brought the issue of weather as a major news story back into sharp focus.
The UK witnessed its own devastation during December 2015, when flooding caused misery for homes and businesses in parts of northern England and the Scottish borders.
These activities will help you understand that the weather can be a news story itself and not just a forecast at the end of the bulletin.
It will also help you think where to find weather stories and provide a recap on the three Cs of news writing.
Weather stories are in the news all the time. Some are a reaction to what is happening, such as when there is flooding or if a heavy snowfall closes lots of schools.
Others will be planned, such as when there a heatwave and there are stories about ice cream sales going through the roof, or when gale force winds are expected and there is news of rail closures in advance.
WHY DOES WEATHER BECOME A MAJOR NEWS STORY?
Come rain or shine, millions of people watch weather reports every day.
But sometimes, extreme weather events lead to the forecast becoming a major news story in itself.
BBC presenter Carol Kirkwood explains how the weather team and the news team come together to track significant weather events across the globe.
ACTIVITIES
As a class, discuss when students were last affected by the weather. Perhaps there was flooding or snow which prevented them from going to school.
Read what the experts have written
Search BBC News for weather stories or see the Features & Analysis section on the BBC Weather index for recent stories featuring the weather in the news.
Answer these questions:
What? Describe the weather.
Where? Write down the location of the weather.
Who? Write down who is affected
When? Write down when it started and when it finished/will finish.
Cross check the W facts with another non-BBC story to ensure it is accurate.
--------------------------------------------------------------------------------------------
Write your own news report about the weather
Write a story of 200 to 300 words.
Remember to use the three Cs:
Clear - write how you would say it and get straight to the point at the beginning
Concise - keep your sentences short
Correct - get your facts and grammar right and stay within the law
If you've got time, have a think about how you could illustrate your story with photos or maybe even interviews.
And then watch this video produced by Walbottle Campus in Newcastle for last year's School Report for some more tips.