Celebrating the birth of the BBC website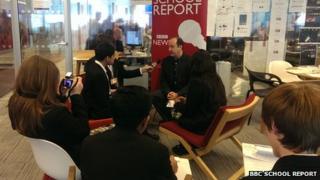 We are three BBC News School Reporters from The Compton School in Finchley, north London and we bagged an exclusive interview with the Editor of the BBC News website, Steve Herrmann.
We asked a him a few questions about his job at the BBC in the month of the website's 16th birthday.
The BBC's method of turning an original idea into a final news report is almost the same as the one we use ourselves at The Compton.
The cycle is to look for upcoming events, assign a student journalist, gather background information, plan the interviews, structure the story, write up drafts, sub-edit the story, write up the final version, publish it and read reviews.
Feedback and comments on articles are a very important part of the cycle; they add emotion to the story and sometimes allow a follow-up too.
We do the same thing at The Compton just at a smaller scale. The basic process of writing an article is like the chain on a bicycle as everything is interlinked.
As well as discussing the development of an article at the BBC, we also talked about what Steve Herrmann thinks makes a good journalist.
He said: "One of the best things to have as a journalist is to have a sense of curiosity." We think this is important because it means that journalists always have to keep their eyes open for new reports.
It was very exciting to talk to Steve Herrmann and we all learnt lots of new things about journalism in the real world.
As aspiring journalists, it was interesting to see what it would be like to be a journalist by visiting one of the biggest news corporations in the world.