YSPOTY 2013 nominees: Amber Hill Q&A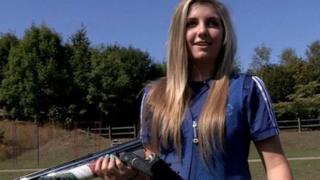 Sixteen-year-old Amber Hill was inspired to give shooting a go by her grandfather Bill when she was nine.
She holds the world record for the youngest-ever winner of a senior World Cup in her discipline of skeet and finished the season ranked number one senior in Great Britain and fifth in the world.
The young gun from Berkshire won team silver at the European and World Championships and will be going for gold at next year's Commonwealth Games in Glasgow.
Here, Amber answers the questions set by the BBC News School Report team from The Morley Academy in Leeds.
AMBER HILL Q&A
Q: What's the biggest hurdle you have had to overcome?
A: The biggest hurdle I've have had to overcome is juggling school work, my social life and my shooting.
Q: Do you have a limit on how far you would be willing to go to become successful?
A: No I am willing to sacrifice a lot in order to become successful and reach my goals.
Q: What is your worst habit?
A: Forgetting what I was just about to do.
Q: Who is your current inspiration?
A: Jessica Ennis as she is a great role model for girls in sport and how much dedication she puts into her sport.
Q: What advice would you give to somebody starting out in your sport?
A: Aim high, stay dedicated and love what you do.
Q: If sport doesn't become your career, what would you like to go on and become?
A: I'd like to do something in sport but if not i would like to be a beautician or hairdresser.
Q: Did you enter the sport through chance or personal drive?
A: I came into my sport by chance by going with my granddad to a local shoot one weekend because I didn't want to watch my brother's rugby in the cold.
Q: How do you pick yourself up again after failing?
A: I would put everything behind me and move on to train harder and focus on the future.
Q: If you won the Young Sports Personality of the Year award, how would you celebrate?
A: I would celebrate with my family and friends.