YSPOTY 2013 nominees: Dina Asher-Smith Q&A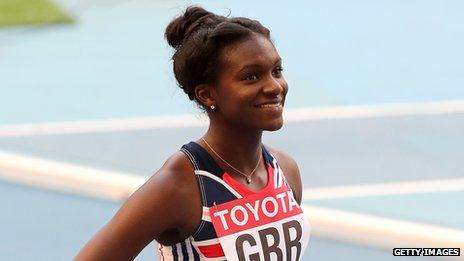 Sprint star Dina Asher-Smith has won a stash of medals on the track in 2013.
The Blackheath and Bromley athlete won two gold medals at the European Junior Championships, taking the 200m title and then joining team-mates to win the 4x100m relay to break the UK junior record.
Unsurprisingly Dina was then selected as part of the Great Britain and Northern Ireland Squad for the 2013 World Championships in Moscow, where she was the youngest athlete in the team and took part in the women's 4x100m relay.
Here, Dina answers the questions set by the BBC News School Report team from The Morley Academy in Leeds.
DINA ASHER-SMITH Q&A
Q: Do you have a limit on how far you would be willing to go to become successful?
A: Yes. If it required sacrificing my, or a close family members', happiness then I would not do it.
Q: If you were stranded on a desert island, what three things would you take?
A: A helicopter, aviation fuel (for the helicopter, obviously) and a pack of cards.
Q: How has your diet changed because of your sporting career?
A: It's much healthier, unsurprisingly! I've cut out chips, fizzy drinks etc. Sport has made me really appreciate good or rich food much more since it's a rarity for me to have it.
Q: What is the best piece of advice you've ever received?
A: Don't dwell on the things that are out of your control.
Q: What is your worst habit?
A: I don't know when to stop talking - I always dig myself into a hole!
Q: Who is your current inspiration?
A: Christine Ohuruogu. She's been a true role model for a long time now and I was very lucky to meet her many years ago and this summer I was actually on the same team as her - amazing!
Q: How do you pick yourself up again after failing?
A: I do sulk for a bit but I do then quickly forget about the failure. I won't dwell on it as that's not healthy - I just make sure that any lessons needed are learned and move on.
Q: What's been your most embarrassing moment in sport?
A: I fell over whilst practising blocks in front of a half-full stadium at the European Youth Olympics!
Q: If sport doesn't become your career, what would you like to go on and become?
A: Not too sure really, as I'm trying to keep my options open. I think the first step is getting a good degree which will be a challenge especially juggling study with a high quality sporting career and then I'll see what happens next. I do think getting a good education is an important step.
Q: What advice would you give to somebody starting out in your sport?
A: Patience is key. Success does not happen overnight or without a lot of hard work and sacrifice.