YSPOTY 2013 nominees: James Guy Q&A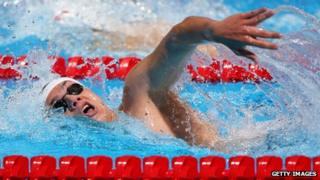 It has been a breakthrough year for 17-year-old swimmer James Guy.
Having won double gold (200m Freestyle, 4x200m Freestyle) at the 2012 European Junior Championships, this year James made his senior international debut at the World Championships in Barcelona - coming fifth in the 400m.
In the space of 12 months the rising star of British swimming has represented Team GB at both the European Junior, the World Junior, and senior World Championships, and has now been invited to swim as a part of the European All-Stars team at the 2013 Duel in the Pool later this month.
Here, James answers the questions set by the BBC News School Report team from The Morley Academy in Leeds.
JAMES GUY Q&A
Q: What's the biggest hurdle you have had to overcome?
A: Moving 250 miles to join Millfield School, making new friends and boarding at school for a short while.
Q: If you were stranded on a desert island, what three things would you take?
A:Fishing rod, my mum and my little brother.
Q: How has your diet changed because of your sporting career?
A:I eat more so I can train and compete, and I eat much healthier.
Q: What is the best piece of advice you've ever received?
A: Train hard and the fight is easy.
Q: What is your worst habit?
A: Biting my toenails!
Q: Who is your current inspiration?
A: Floyd Mayweather.
Q: What advice would you give to somebody starting out in your sport?
A: Enjoy it, have fun but stay focused!
Q: What's been your most embarrassing moment in sport?
A: When I was 11, instead of shaking the hand of the swimming President I raised my hand thumb to nose, wiggling my fingers in a childlike gesture. As you can imagine it didn't go down well!
Q: If sport doesn't become your career, what would you like to go on and become?
A: I think I will be a businessman, involved in property.
Q: If you won the Young Sports Personality of the Year award, how would you celebrate?
A: I will take my coaches and family out for a meal!