Commonwealth Essay winner Tabitha encourages others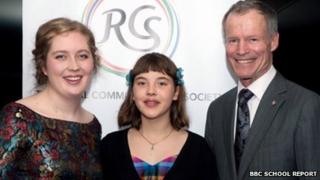 The Commonwealth Essay Competition has encouraged thousands of young writers from all over the world to test their skills for 130 years.
This year's winner was 12-year-old Tabitha, whose entry was called "Is change a good thing?"
She decided to write about Botswana and the Commonwealth after learning about them at school but she was really inspired after collecting money for a local Christian charity helping orphaned children in Tanzania.
Tabitha is dyslexic and has had significant help over the last five years. She hopes her prize will help children across the Commonwealth who might find writing difficult believe they can also achieve things.
The Junior Judging Panel said: "Tabitha's entry is authentic, poignant and moving. The Panel particularly liked the concise use of language and the telling images. There are no superfluous words. Tabitha takes the reader on a journey into another world and leaves them wanting to read her story again and again."
Following her win School Reporters Abbie and Lilwen from Lincoln Castle Academy had the chance to ask Tabitha about her inspiration behind the essay:
LILWEN'S QUESTIONS
Q - What inspired you to come up with the name Silverfox?
A - I used the name Silverfox because it is quite unusual, and I found out the internet is is a really popular name in Botswana which was surprising - it is in the top 10 names!
Q - Is this your first entry into a writing competition?
A - I have never entered a writing competition before. Actually it was funny as I didn't know it was a competition as we did it as homework for school!
Q - Did you ever think you would win such a big competition?
A - I never thought I would win anything so big, especially as I find writing difficult as I am dyslexic. I often struggle to write things down as I can't spell that well.
Q - Will you carry on writing after this?
A - Yes now I will try and carry on writing. I am going to get a computer system that recognises your voice as this will help me write stories even though my spelling and writing is bad!
Q - What inspired you to base the story in Botswana?
A - I was inspired by some charity work I have done for a charity called Tumaini- they help children orphaned in Tanzania , I collected money outside a supermarket for them and found the stories very sad
Q - Do you want to be a writer when you grow up?
A - I would love to be an actor as I enjoy speaking and being on a stage. But I also love writing stories and poems so you never know!
Q - Is the story inspired by your past?
A - The story wasn't really inspired by my past as I have never lost my mum and dad, although I was 11 and my sister was the same age as Silverfox. I saw a video of a boy in Botswana who sold lemons and that made me think of lots of different stories I had heard. I do have a grandma with grey hair who loves cooking!
ABBIE'S QUESTIONS
Q - If you had not won the Commonwealth competition, would you still be writing?
A - This is a good question, I don't think I would still be writing as it is hard for me and as it can look messy so I wouldn't always want to try, Now I feel more confident that I can spellcheck or ask others and will carry on!
Q - Have you written any other stories/poems?
A - I have written some poems in the past, but I am writing a new story about a Robin Hood Fairy - I want to write something that is lots of fun!
Q - Why did you decide to write under the essay title 'Is change a good thing?'
A - I picked the title as I thought I could look at change as in money and might be a surprise when you read it!
Q - How did you come up with your characters' names?
A - They are the top most popular names in Botswana and I thought I couldn't use my friend's names as they are English.
Q - What tips would you give other young writers?
A - Don't give up, especially if you have difficulties with writing, it is the ideas that matter, I now know anyone can do it if they try.
Q - How did you find out you won and how did you feel?
A - I found out when I was on holiday with my grandma, when my mum and dad rang I went mad with excitement, although it took a while to remember the story as it was so long since I wrote it.
We bought Commonwealth flags and hung them outside and people tooted when they went by the house!!