Reporting from the BBC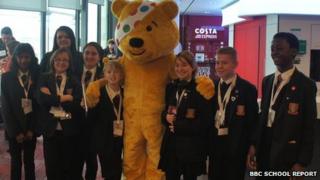 On Friday 15 November we set out on a trip to the BBC Broadcasting House in London for a day of journalism - reporting on Children in Need.
Departing at 08:50 GMT, we made our way into London on the trains, accompanied by our teacher Mr Clyne, and after a brief walk, we were greeted with the site of the gargantuan BBC buildings which are responsible for delivering broadcasts throughout the UK to millions of people on a daily basis.
Once inside the building, we were escorted to a room which would become our temporary headquarters by our two guides for the day. After a quick introduction to some features of the building - in which 5,000 employees are based - it was straight down to business.
We had already been delegated roles within the team, and each of us prepared questions for our interviewees, with Chelsea and Jessica responsible for updating the BBC website on our status throughout the day.
Before setting out for our first interview, we were all pleased to see our names on the Practice News Day Live Page on the BBC website!
The first interview took place with prestigious journalist, BBC Radio 2 host and Eggheads presenter Jeremy Vine, which was very exciting for us all.
Parmis and Tilly were the interviewers and the first among us to operate the recording equipment. Some of the best features of the interview were the personal anecdotes which Jeremy used during his answers.
At one point, he told a wonderful story of their personal maid (with whom he was uncomfortable at first), who served them during some major presidential elections in Africa.
Their friendship blossomed and they grew close, so when they parted it was indeed sad for both of them, and he said that when they said their goodbyes, the maid told him: "You have become both my father and my son". And she had lost her only son in a tragic car accident during their stay there. In fact, Jeremy even said that her parting sentiment was the best quote of all, and "it never even made it on to the air".
Another gem was the story of the MP Peter Mandelson, who was demoted during Gordon Brown's electoral campaign, who was reluctantly co-operative and grumpy throughout.
When giving advice for giving good interviews, Jeremy talked about how important it is to present yourself with confidence to give the impression that you had the upper hand, because if they think that they have the upper hand then they will be in control.
At this point, he also commented that Parmis and Tilly were "obviously not nervous", which was a feather in their caps!
Another tip was to find what you can know more about than your interviewee and stick to that theme. This is because "you can't know more than them about everything, but you can know more than them about something, and you're going to choose that something".
Moreover, like the interview with the demoted MP, you should always aim to ask them "the question which they can't answer", and make them think about their answers, because that is a sign of a good interview.
In addition, he also admitted that in a quiz, he couldn't beat the Eggheads!
After the interview, we returned to our headquarters and were told that a dance troupe would be shortly coming our way, which got Chelsea to prepare an impromptu interview.
In very little time, the dance group Rough Diamond, had come down the stairs and performed an amazing routine with Pudsey Bear, who proved to be surprisingly adept at dancing!
Next on our agenda was interviewing some of the artists involved in BBC Asian Network's 'Busk for the Bear' event, which included Punjabi singer San2 and rapper Cynikal.
We found them just outside of the BBC Centre, busking to raise money to contribute to Children in Need and drawing large crowds with their music, and volunteers collecting donations in buckets were wandering around into crowds.
At one point, Pudsey drifted into the audience again and demonstrated his dancing skills again with an eager onlooker, and their antics were captured on camera!
Sinthiya interviewed Claire, who was a woman collecting money for Children in Need and she was "really busy and gathered lots of money in a very short amount of time!"
After the first performance - from Cynikal - we went inside to wait to interview him, and stumbled across Dr Who's genuine Tardis!
After a few pictures with the famous telephone box, Cynikal was interviewed by Ryan and Sinthiya. The audience definitely loved him, and Parmis remarked that "he is an amazing rapper".
Next, we went back into the bitter cold to hear the sweet tunes of singer San2, who had a television singing appearance at the age of eight and was born into a musical background.
This interview was followed by another trip into the cold, but we were soon warmed up when singer H-Dhami asked us to form a train during his song!
He also very generously fulfilled our request for him to give us a shout-out, and was very engaging during his interview with Chelsea and Parmis, telling them that he wanted to be a footballer when he was younger but he was still passionate about music. In fact, he commented "I believe music is like medicine".
The final Asian Network interview was with rapper Sin-Seer after he busked for charity, and he was also very eager when talking to us.
Like Jeremy advised, the questions asked by Aaron and Daniel caused him to have to pause and think about them, causing him to remark after his interview: "I wish I'd been seen those questions before, they were really good - one of the best interviews I've ever had".
Overall, the feedback from all the buskers about the interviews was extremely positive and inspiring for us all.
Before the end of the day, we went back to HQ to do some editing.
Half of us were on a team to edit the interviews themselves, and the others of us were selecting the best 12 or so photographs of the day - difficult tasks considering that each interview had to be examined with a fine toothcomb and there were over 200 photos to review!
It was both fun and informative for us, because this was the work which went on for real broadcasts on television and picture slideshows each day.
This task was our final one before we sadly had to leave, but we were given a look at the broadcasting centre at the heart of the building, where domestic and international footage was being examined and broadcasted in front of millions of people.
It was awe-inspiring for all of us to see the nucleus of all the operations, and it inspired us all to do great things with journalism.