'Awesome' day in Parliament for School Reporters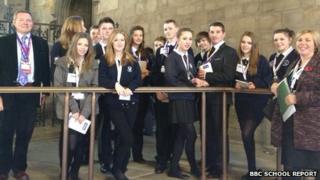 "Awesome" was the one-word answer from Year 10 School Reporter Luke when asked what he had thought of his day reporting on the UK Youth Parliament.
He and a handful of schoolmates had sat in the House of Commons Press Gallery just above the Speaker's chair and watched as 300 MYPs debated proposals for their 2014 campaign.
The School Reporters then hot-footed it back to the BBC Westminster newsroom to prepare video, audio and online reports as part of the first BBC School Report Practice News Day of the academic year.
"It was fascinating," said Millie. "I am going to be much more interested in politics from now on." Phoebe found some members of the Youth Parliament very impressive. "I was really inspired," she said.
I've been involved with School Report as a mentor almost from the start. More recently, I've become a school governor and, from the start of this term, chair of governors.
Our school - Holbrook Academy in Suffolk - was put into Special Measures by Ofsted in March 2012. A lot has happened since then. There have been changes in the senior leadership team and among the governors.
Our performance is improving fast. Ofsted have been back for further visits and tell us we're making good progress.
But, as anyone who has been through it will know, coming out of Special Measures is a long, hard process.
Our day with BBC School Report made almost as big an impression on the teachers who came with us as it did on the students.
"They really enjoyed the debate," said one. "Ofsted give good marks for the use of debate in class. I am going to get regular debates going with my students."
The other said: "The kids are really buzzing. Half of them now want to be journalists. This has been such an energising experience."
Building and sustaining higher-levels of energy seems to me to be a key part of improving a school's performance. Students, staff, governors and everybody involved have to inspire each other to go that bit further.
Not every school can go to Parliament and, obviously, it requires a whole range of new initiatives to turn a school around.
But the benefits of BBC School Report are now well proven. As one of the things a school can do to raise energy levels and aspiration it certainly gets my vote.