School Report News Day the Australian way
13 November 2013

From the section

Home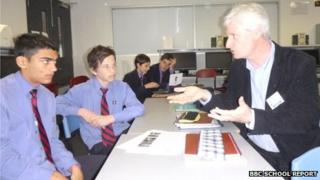 Australian schools have been reporting in their own version of School Report, inspired by the BBC project.
Melbourne students turned classrooms into newsrooms for their own News Day.
The Deakin School News Network is a project run for secondary schools in and around Melbourne in Victoria.
The journalism department of Deakin University set up the scheme to inspire high school students to develop their media skills and make them think about studying media subjects at university.
The schools were given a wide brief to do their own news reporting. They were given some production materials and mentoring support but were free to select their own ideas. The students were really inventive and came up with a wide range of stories for their reports.
Project leader Paul Bethell, a former BBC News journalist who is now a senior lecturer at Deakin University, said he was delighted with the reports.
"All the students and staff have worked really hard on these reports and I think there's been a great sense of achievement," he said.
"It's been so good to see so much experimentation and innovation in the reporting and production and it's clear the students have also had a lot of fun making the reports.
"I know from my discussions with the school staff that there's been a great deal of learning and problem solving for the students and that's exactly what we hoped would be happening with this project.
"The best way to learn is by actually doing and it's great for students to work through all the different steps that are needed to make a successful TV news report.
"We're so grateful to the BBC School Report team for all their help and advice in setting up our project.
"We'd really like our schools from Victoria to join with all the UK schools for School Report in 2014 and I'm sure they'll be keen to build on all the experience they've gained with these reports to do some really good work."
Emerald Secondary College students experimented with technology to report on a local tourist attraction, the Puffing Billy steam train line, as well as studio reports on a mental health initiative called Are You OK day and a controversial plan to build a McDonalds restaurant in a nearby town.
Nazareth College students in the Melbourne suburb of Noble Park chose to report on stories at their own school, including the performance of the school sports teams, new school building works and the school's annual fundraising day.
The students at Keysborough Secondary College reported on their Year Nine City Experience trip to Melbourne.
Students from Newcomb Secondary College in Geelong did a series of reports on topics such as student reaction to the result of Australia's recent general election, a discussion on homophobia and a report on the Victorian Schools BMX Championships.
And Lyndhurst Secondary College in Melbourne turned their hand to video reporting.