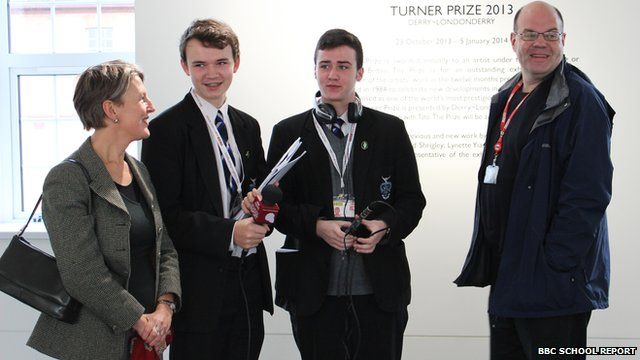 Regional cities can benefit from Turner Prize move - Tate boss
8 November 2013 Last updated at 14:38 GMT
Penelope Curtis, the Director of Tate Britain, has told BBC School Report that moving the Turner Prize to Londonderry for the first time this year would be a good thing for building up a better infrastructure for the arts in regional cities.
The Turner Prize is being presented in Northern Ireland this year - the first time in its history that this has happened outside England.
The prize is a contemporary art award set up in 1984 and is given to a British artist aged under 50 for outstanding displays of their work in the preceding 12 months.
School Reporters David and Eoghan from St Columb's College also spoke to nominated artist David Shrigley and past Turner nominee Willie Doherty while Mark Lawson, the presenter of Radio 4's Front Row, was another visitor.