Meeting Malala inspires School Reporters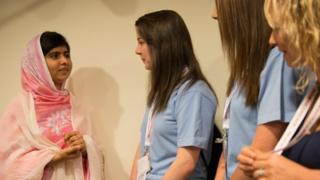 'Let us empower ourselves with the weapon of knowledge...' so said a young girl in pink surrounded by men in grey suits at the United Nations in New York on Friday.
Finally, after all the talk and planning, Malala Yousafzai took to the podium on her 16th birthday to speak out about the importance of education and we were there to listen to her speech.
Our day began early, and after a quick breakfast and walk to the UN, we jumped a very long queue of young delegates with our media and special VIP passes and were able to meet a very iconic girl - Malala Yousafzai. When we met the UN Special Envoy for Global Education Gordon Brown on Thursday he said he would try and make this happen but we didn't quite believe it until it happened!
Soon after we arrived at the UN for day two we piled into the Trusteeship Council Chamber with over 500 other young delegates and were immediately seated in the specific media area.
We instantly realised how good our seats were as we had a panoramic view of the room and were almost right opposite the main speakers. 
So the Malala Day speeches began, starting with Gordon Brown who quickly got to the point of the whole special Youth Assembly event by saying 'No bullets should deny children the right to education'.
We found his speech very strong and it really showed how passionate he is about reaching the Millennium Development Goal for all primary school age children to be enrolled in school by 2015.
Following this, the UN Secretary General Ban Ki-Moon shared his views and spoke of his struggles with education as a child himself: 'I didn't learn the importance of education from a book, I lived it.'
His school experience seemed like many of the other young delegates in the room. What surprised us most was the lack of resources he had and how he was taught under a tree.
Pupils today have access to specialist technology and it shocked us how a man of such power began with so little.
Then "the most courageous girl in the world" took to the podium to give the speech of a lifetime.
Malala's speech gave us a true insight into how lucky we are and the severity of some people's struggles to go to school in other parts of the world.
We were astonished at how confident Malala was and how strongly she believed in rights to education for all, we could hear it through the powerful intonation in her voice.
Hearing Malala speak has inspired us in various ways, particularly for Lauren as it has really made her want to become a teacher in a deprived country, but meeting Malala in person also reminded us that we are just all the same.
We talked about living in Birmingham, supporting Manchester United and when he introduced us Gordon Brown even joked that we should help Malala with her school work!
Overall our trip to New York, and being part of the international media reporting from the UN, has been a whirlwind of inspiration, excitement and the unexpected.
We have flown for the first time, met lots of interesting people from around the world and seen some sights, but mostly we have heard how something most children around the world take for granted on a daily basis - going to school - is so important for so many people.
The highlight of the trip for both of us has to be our meet and greet session with Malala, we were very lucky to be part of the few who were able to. She was so dainty yet full of confidence. 
And we hope to stay in contact with her as although in some ways her life is so different to ours in others ways it is not - she too now goes to school in Birmingham!