Malala Day: Pupils report on London summit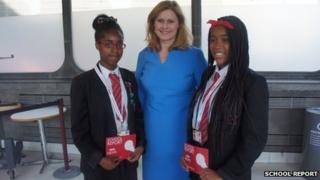 We went to the Southbank Centre to report on a special event which brought lots of people together to watch live as Malala Yousafzai spoke at the UN and to discuss how to help young people get an education.
In March, we produced a radio report about how Malala's story inspired us, so we already knew that she had been shot in the head by the Taliban after campaigning for girls to be able to go to school safely in Pakistan.
Watching her speak to all those people at the UN, less than a year after she was so badly injured, we were really inspired and impressed by her courage.
She spoke about the importance of a good education and we really liked that she included everyone in her speech.
Malala said it wasn't just about her or people in one country - the fight for education is about all of us. She called on girls to stand up for their rights but she didn't leave the boys out - they can keep speaking out too!
She really wants to get everyone involved and make everyone aware of the issue so that everyone can get equal access to an education.
But we weren't just watching from the sidelines - we had work to do!
Stacianne and Jola interviewed Kerry Smith, the head of advocacy and campaigns for Plan UK, who told us there is a real crisis in girls' education.
Then Angel and Joyce interviewed Sarah Brown - she was really nice but we were a bit nervous anyway!
Mrs Brown said there are lots of ways young people can get involved in the campaign for global education and that she thought that young people are "the new superpower".
We told her that our fellow School Reporters Holly and Lauren had interviewed her husband Gordon Brown in New York yesterday and she told us there he's always been passionate about education.
Being real reporters is exciting and getting to ask the questions that mattered to us was such a great opportunity - and lots of fun too!
We realise how important it is to accept and embrace the fact we are allowed to go to school - today really highlighted the fact that not everybody is as lucky as we are.
Malala's recovery is an inspiration in itself. She has showed the world that you shouldn't let anyone knock you down and if you put your mind to something, you can achieve it.