School Report wins Diversity Award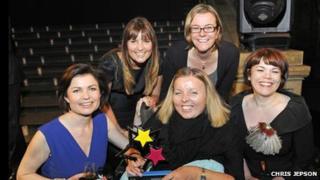 BBC News School Report are thrilled to have won a 2013 European Diversity Award in the 'Journalist of the Year' category.
The judges said that School Report "has been able to bring together children from across the UK, from all different racial and cultural backgrounds, to share a passion in stories that interest them".
Helen Shreeve, the Editor of School Report, accepted the award on behalf of School Reporters across the UK, saying:
"This award is for the 33 000 students and over 2000 teachers who took part in BBC News School Report last year. They produced excellent journalism which truly reflected the diverse voices of young people across the UK."
School Report is an inclusive project which works with a wide range of schools from across the UK and with thousands of students of all social backgrounds, to help young people report on the stories which matter to them.
The project, which works with 11-16-year-olds, wants to accurately portray the world as it is, and this includes making sure as far as possible that the overall composition of the schools and students taking part fits in with the broader social framework.
"The BBC is for everyone and being properly inclusive is absolutely critical to the project," said Helen Shreeve.
"School Report is about giving young people a voice and engaging them in the world around them. We want to give every young person the opportunity to get involved and report on the stories that matter to them.
"We make every effort to ensure School Report is as representative as possible across several different measures, and will continue to do as the project develops."
School Report strives to be representative and inclusive in several different ways.
The percentage of pupils eligible for Free School Meals (FSM) is used as the key indicator of the social diversity of the project, helping ensure that pupils from all backgrounds get the opportunity to take part in the project.
The graph below compares the level of FSM for all state secondary schools in England with the FSM data for School Report in the 2012-13 academic year; the way the two lines track one another clearly indicates that School Report accurately reflects the make-up of schools across England.
Teacher Vesna Klein, from Brentside High School in Ealing, explained how School Report had helped to develop her pupils' skills and abilities.
"Statistics show that pupils on FSM underachieve and underperform... [but] schools who manage to change the trend of underachieving show that low income does not necessarily mean failure for students," she said.
"Focusing on good teaching and giving all students equal opportunities can definitely change this negative trend of associating low income and underachievement.
"Through School Report we teach the basics of journalism but the reason the students shine is that they recognise the value of having a real audience.
"It's a huge motivating factor. They take extra care because their content will be viewed by many people - in and out of the school - thus putting a great emphasis on accuracy and clarity."
Ms Klein cited the example of a student currently studying English at Exeter University, who attributed her love of the subject to her experience of taking part in School Report when she was a Year 8 pupil.
School Report is open to any UK secondary school to take part in, and the wide variety of types of schools taking part reflects the diversity of the educational scene including academies and comprehensives, grammar schools and independents, Free Schools and specialist schools for pupils with special educational needs (SEN).
There is also a wide range in terms of faith and non-faith schools, selective and non-selective schools and fee-paying and state-funded schools.
School Report is also geographically diverse, with schools from the Channel Islands to the Shetland Islands and a large presence in Northern Ireland, Scotland and Wales as well as a small number of overseas schools, including those for the children of British Forces personnel. Several schools have chosen to report in native languages such as Welsh and Gaelic, and there is a diverse mix of schools from urban and rural areas.
The full breakdown - by region and country - of the schools which took part in the project in the 2012-13 academic year can be seen in the table below:
| | |
| --- | --- |
| REGION/NATION | NUMBER OF SCHOOLS TAKING PART IN 2012-13 |
| East | 102 |
| East Midlands | 43 |
| East Yorks and Lincs | 19 |
| London | 157 |
| North East and Cumbria | 55 |
| North West | 106 |
| Northern Ireland | 48 |
| Scotland | 90 |
| South | 100 |
| South East | 62 |
| South West | 40 |
| Wales | 39 |
| West | 41 |
| West Midlands | 88 |
| Yorkshire | 41 |
| Other | 3 |