Queen visit to BBC thrills School Reporters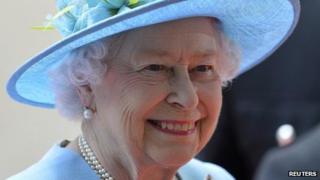 The Queen came to the BBC on Friday 7 June and spoke live on Radio 4 to declare Broadcasting House, the BBC's newly developed building, as officially open.
News presenter Sian Williams had the honour of broadcasting with The Queen. We managed to interview Ms Williams and she told that there was "almost an extra sense of anxiety" because of The Queen's arrival, but added that "it's just another day at work really - I'm interviewing Bill Gates tomorrow!"
Early in the morning we took our places in the press pen alongside many other reporters and photographers.
John Stillwell, a photographer for the Press Association, told us that he had the best position to see The Queen. We asked him whether he was excited and he told us: "No, this is just business for me. I've been doing this for 25 years!"
Well, we were excited anyway!
We also managed to interview members of All Souls Church of England Primary School.
Ayda, who is seven, was one of the two children who were chosen by their school to present The Queen with a special bouquet of flowers.
We asked her about the experience of meeting the Queen.
"It was amazing!" she told us.
"Our school had prepared for the event by creating colourful flags, which we waved as The Queen passed us."
Seven-year-old Tai Tai, the other pupil who presented the flowers to Her Majesty, added: "My school and I were really excited about the event, but when we actually approached The Queen I got really nervous."
As we stood outside the new BBC building, we managed to get a good view of the architecture. It was fascinating to see the contrast of the new and the old together where the new building joins the original Broadcasting House, which was built in 1932.
Later, we saw the BBC staff queuing up to catch a glimpse of Her Majesty.
The event was great and the atmosphere was positively buzzing with excitement. We have a real sense of accomplishment that we reported on the amazing events.
We can't really comprehend what has happened - if we'd have had a daydream about today it would have been just like that!