Malorie Blackman: Pupils hail 'inspirational' new children's Laureate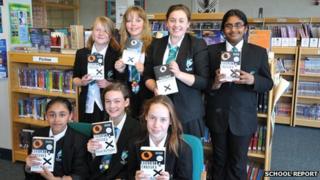 Malorie Blackman was named as the new Children's Laureate on Tuesday.
Blackman is the author of more than 60 books for children and teenagers, including Pig-Heart Boy, Hacker, Cloud-Busting, and Thief!
The 51-year-old takes over from Gruffalo author Julia Donaldson and becomes the eighth writer to become laureate.
The School Report team from Chorlton High School in Manchester reflected on the news as one of their favourite authors took on this prestigious position.
Eve:
I am pleased that Malorie Blackman is the Children's Laureate because it gives a chance for a great writer to be recognised and respected for her great work. It will also mean lots more people will know about her books and be able to journey through and experience emotional stories that change the way you think about everyday things you do.
I love her books because they are so intriguing and clever, the way she uses language, for example in 'Nought and Crosses'. The way it makes you think of a game but also nought means nothing.
When I was reading the books I was often in a state when I couldn't talk to anybody because I was so into them. Additionally once I had read the books I was banging onto my friends about them and showing them sections.
Blackman is an inspiration and she rightly deserves this award!
Harpreet:
Malorie Blackman is a huge inspiration to all of us. She is a brilliant author and a brilliant person.
Many of her books, including 'Boys Don't Cry', are based on real life situations and make you think about the book and the situation. I am delighted for her as I know how hard she has worked for it and she deserves this title completely.
She writes about serious situations, which people can relate to and her stories seem so real. Even the title 'Nought and Crosses' gives you a sense of a game which intrigues the readers to read the inspirational books. This is why I am extremely delighted she has become the Children's Laureate.
Atalanta:
Malorie Blackman's work has made me cry and laugh, but has mostly made me think about how I make day-to-day decisions and about how I can sometimes judge people because of how they look. Now, I will wait until I have talked and gotten to know them.
Her work has taught me a lesson I will never forget and that is why I love Malorie's books.
Daisy:
I think that Malorie Blackman deserves this award because she has written about a topic that needs to be written about.
Racism, terrorism, the class system and all the artificial divides we put between ourselves are always seen as a faraway myth (except the class system).
She has inspired me in many ways. It makes me realise that my life, though it is not perfect is not horrendous in anyway. Malorie is an amazing writer and I'm very glad she has been awarded this honour.
Deliah:
I think that it is amazing that Malorie Blackman has become Children's Laureate.
She is an incredible and inspiring author who deals with difficult topics. Her writing is highly emotional and makes you look at the world in a new way. I think that she deserves to be Children's Laureate.