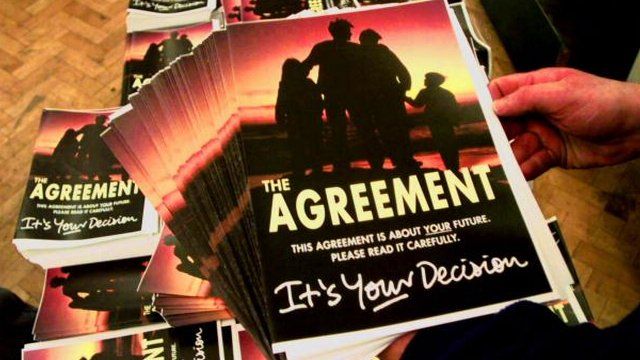 Young people on life in Northern Ireland
31 May 2013 Last updated at 10:13 BST
It has been 15 years since Northern Ireland voted for its own parliament.
15-year-old pupils from Our Lady and St Patrick's College; Strangford College; St Louise's Comprehensive College; Malone College and Saintfield High School look back at life before the Good Friday Agreement and consider how life has changed since, using some iconic moments from BBC Northern Ireland's news archive.
On Friday, 31 May 2013, students at these schools put questions to a panel of MLAs (Members of the Legislative Assembly) at Parliament Buildings, Stormont. Facing the inquisitive pupils were Paul Givan (DUP), Jennifer McCann (Sinn Fein), Danny Kinahan (UUP), Alban Maginness (SDLP) and Trevor Lunn (Alliance).
You can watch the whole of BBC Schools Questions on demand on BBC News School Report.