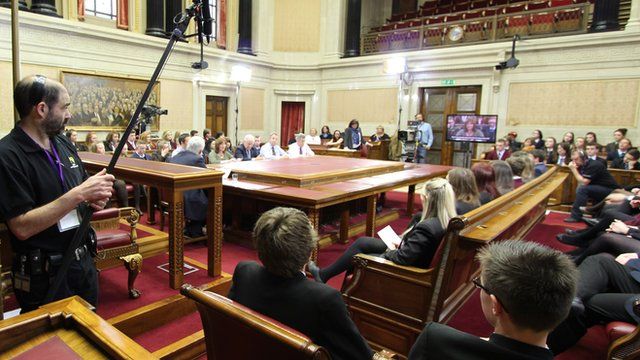 BBC Schools Questions
3 June 2013 Last updated at 09:30 BST
BBC Schools Questions gave young people from schools in Northern Ireland the opportunity to put questions on issues that matter to them to politicians in the Senate Chamber at Stormont, home of the Northern Ireland Assembly.
Schools Questions is presented by BBC Northern Ireland's Political Reporter Stephen Walker and an audience of 15- year-olds came face to face with a panel of MLAs (Members of the Legislative Assembly). Facing the inquisitive pupils are Paul Givan, DUP, Jennifer McCann, Sinn Fein, Danny Kinahan, UUP, Alban Maginness, SDLP and Trevor Lunn, Alliance.
15 years after Northern Ireland voted for the Good Friday Agreement the pupils ask if the Assembly is able to meet the expectations of a new generation.
The pupils are from Our Lady and St Patrick's College, Strangford College, St Louise's Comprehensive College, Malone College and Saintfield High School.
Watch: Life before the Good Friday Agreement
BBC History: Good Friday Agreement