School sport: Select Committee considers pupil evidence for key report
11 June 2013

From the section

Home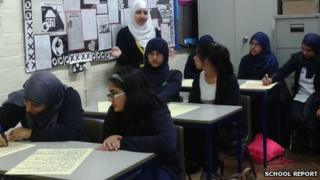 The Education Select Committee will draw on evidence submitted by School Reporters and other young people as it produces a key report about the future of school sport in England.
School Report has been working in partnership with the Committee to help young people get their voices heard in the inquiry into school sport and 2012 legacy.
The Committee launched a short online survey to gauge the opinions of students, while several schools also submitted detailed written evidence after using School Report's new lesson plan which aimed to gather the opinions of young people in order to feed them into the inquiry process.
"We're going to use the surveys and notes as evidence in our inquiry," Education Select Committee chairman Graham Stuart MP told School Reporters.
Teacher Ann English, from Plashet School in Newham whose pupils followed the lesson plan said: "The girls were all impressed that someone was actually listening to their views.
"I don't think that they would have been given the opportunity to reflect on such an important issue and give their views on the topic."
The Education Select Committee - separate from government but made up of MPs from the three main political parties - investigates some of the most important issues to do with education in England.
As well as helping young people contribute directly to the inquiry via the survey and the lesson plan, School Report has also been telling the story of the Committee's investigation as it has continued to gather evidence.
When members of the Committee took a trip to Barking Abbey School in east London, School Reporters Naim, Bilal and Sana were on hand to report on the visit and interview Pat Glass MP as well as some of their teachers and school-mates.
"We get more out of visiting schools and talking to young people than we'll ever get from sitting listening to your head teacher, or your chair of governors or your director of education," said Mrs Glass.
Just a few weeks later, School Reporters Jasmina and Aswini from Plashet School in Newham travelled to Portcullis House in Westminster to attend a hearing of the Education Select Committee.
They took notes from the public gallery as a succession of expert witnesses - including several teachers; representatives from Sport England and the Sport and Recreation Alliance; and former Olympic champion Jonathan Edwards - answered questions from the MPs.
As well as reporting on the evidence they heard in a story used by the main BBC Sport and BBC Education websites, Jasmina and Aswini interviewed Mr Stuart about the Committee's eagerness to hear from young people.
"This will be a way of strengthening the arguments we make when we make recommendations to government to improve school sport going forward," he said.
"What better way to show the strength of our arguments than by showing we've actually gone out and spoken to young people and it's based on that evidence that we'll come to our conclusions.
"What we do as a committee is pick an area - in this case school sport - and we ask people to send us evidence, we have people to give evidence in front of us, we go on visits and then we also try to use other ways of gathering information that can help us make the right recommendations, so the information from young people will be used in our report."
Paralympic legend Baroness Tanni Grey-Thompson gave evidence at another Committee hearing on 21 May, and also answered questions put to her by the pupils from Springfields Academy in Wiltshire.
"Many girls also do not like competitive sport so we have to think of smarter ways of engaging girls in sports/physical activities that are fun and maybe without the competitive element," she told the pupils.
But the School Reporters from Springfields Academy were not done there, interviewing their head teacher who was himself giving evidence at the same Committee hearing as Baroness Grey-Thompson.
"I think SEN (Special Educational Needs) schools could be looked after a little bit better by the government - we don't quite get enough funding," said Trystan Williams.
The School Reporters also spoke to their fellow pupils about school sport, as well as the school's head of PE, Mr Lloyd.
"It's not only about physical things like being able to run and kick and throw and play tennis, but also about all that it does socially and personally," he said.
"Being able to work together, being able to challenge yourself, being able to be creative - all those things make for a better person in life, not just in sport."
Teacher Nicola Brooks added: "This was a fantastic opportunity for our pupils to feel valued by the wider community.
"This in turn gave them the confidence and ambition to make their reports. Knowing that they were being listened to, not only by politicians but by readers all over the world, was really empowering for them."
The Committee held a final oral evidence session on Tuesday 11 June, and the final report is expected to be published in the summer.