Sainsbury's chief executive Justin King on his life and career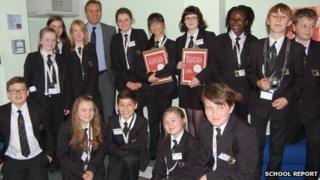 As chief executive of one of the UK's biggest brands, Sainsbury's boss Justin King is used to responding to big questions - from shareholders, rival supermarkets and financial journalists, all eager for every scrap of information.
But how would he deal with a barrage of questions from the School Reporters at Whitley Academy in Coventry? In a wide-ranging interview, the pupils asked him about everything from his first date to his business philosophy to get an insight into the man in charge of a multi-million pound company.
Visiting the school as part of the Speakers For Schools programme, Mr King took questions from the students for more than half an hour. Here are some of the highlights of the interview:
Q: You are a very rich man! But there are lots of other very rich men - who would you like to change places with?
A: Money would have nothing to do with it. If the question is who would you want to be, then the answer is somebody who makes a real difference in something I think is important.
Bill Gates is the second richest man in the world, but the reason I think it would be really interesting to be him is not because he's a very rich man but because he's taking his money and spending it on trying to change the world: on trying to eliminate polio and malaria and trying to change the outcomes for children in Africa.
Talking about the UK, I'd like to be in a position of power in government. I'd like to be the sports minister because I think we should do much more sport in schools but what you learn is that actually being sports minister isn't a position of power - the only person that really has power is the Chancellor of the Exchequer because he's got the money, or looks after it. You'd have to want to be him so you could take a big chunk of money and give it to the sports minister to put much more sport back into schools.
Why I think there should be much more sport in schools is that, one, I think lots of kids would enjoy it. But secondly because it's great preparation for life and I think it's a part of school that's missing from the lives of lots of young people.
Q: What is the best thing that's ever happened to you?
A: If you're fortunate enough to have them then your children are the best things that ever happen to you. But if you mean that in a work sense, then it's the time I've been at Sainsbury's - this is a business with a very long and proud history, 140 years and counting.
Going back 30 years it was the biggest retailer in the UK and considered to be the best retailer in the world. But when I joined it wasn't viewed that way, so to be part of that process over the last nine years, of putting Sainsbury's back on the map - it's a fantastic thing and I'm very proud of that.
Q: What's more important to you: your family or your career?
A: The answer of course if my family. But these are difficult trade-offs to make - nobody gets to be successful without compromising some of the things that are important to them in their lives. If i could have achieved everything I have achieved and spent more time with my family then I'd have liked to have done that, but whether I could have done that I don't know.
There are trade-offs to be made, but part of what gives you the opportunity to do the things you want to for your family is success - my son couldn't be a racing driver if I wasn't successful: it's a very expensive sport and tyres cost more than football boots! Very, very few people get the opportunity to pursue their dream without compromises to some of the other things in their life.
Q: Did you ever imagine that this is what you'd be doing? What was your childhood ambition?
A: I wanted to be a professional footballer. I was one of four boys so it was quite a competitive and sporty environment at home. You probably won't know who Bobby Charlton is but he was the David Beckham of his day and I wanted to be him but sadly wasn't talented enough - although I played football and lots of other sport through my childhood and teenage years it wasn't what I ended up doing.
Q: What did you enjoy most at school?
A: Sport! School for me was quite easy because I could do the work but it wasn't what interested me. The work I part enjoyed was maths - I was good at maths and liked playing with numbers, odd as that sounds. But when I was your age I was sitting in my lesson, staring out the window and hoping we were going to be doing sport in the afternoon.
Q: And what was your least favourite subject?
A: English - I never liked reading, and I particularly didn't like English Literature when you had to had things like Shakespeare and try to work out what on earth's going on with someone speaking in a language I didn't understand. Nowadays I don't read fiction or for pleasure but I read factual stuff all the time because I have to for my job.
Q: If you could rewind the clock, what would you change about your life?
A: I don't like the question really... I think it's a bad way of thinking about things. There'd be 1,000 things along the way but if you spend too much time thinking and worrying about it, you're looking in the wrong direction. I think too many people spend too much time thinking 'I wish I'd done this or that'.
I have a phrase I use at work which is famous for being my catchphrase - it's 'we are where we are'. What I mean by that is that people come to meetings and say 'well if only we'd done this' and it's my way of saying can we stop that, because we can only change things in the future.
The big things, more by luck than by judgement, I have got right so for instance if I hadn't have gone to university then I would have regretted that. But I was lucky that the right people guided me and made it easy to make that decision.
Q: You told us in the assembly that you liked chasing girls and drinking beer when you were 18 or 19! So when was your first date?
A: I remember the first girl I kissed - I'm not going to name her as she probably still lives round here! That was at a funfair in Solihull when I was about 14!
My first proper girlfriend was when I was at Solihull Sixth Form College. She now lives in America and she looked me up on Facebook a few years ago and I got this email saying 'remember me?'!
Q: How do you deal with challenges?
A: You have to tackle them head-on. I've never been one to duck challenges. You have to quickly get to the root case of the problem. There's a natural sequence of events when dealing with problems - the first stage is denial and there's various other stages that people go through before actually confronting it.
I'm a great believer in cutting out all the bits in between - sit down and get on with dealing with it quickly, while making sure you equip yourself with all the knowledge you possibly can before you make the big decisions.
Q: Were you ever bullied at school?
A: Every school has people who are bullies but it's discussed much more now than it ever was then. I was brought up to believe that you stood up to bullies and I used to get in to quite a lot of trouble at school as I was always the person having a fight with the bullies even if they were two or three years older.
I know it doesn't look like it now but I got in a lot of scraps when I was younger! I used to roll my sleeves up and throw a couple of punches - but I probably shouldn't have told you that!