School sport: Baroness Tanni Grey-Thompson calls for early intervention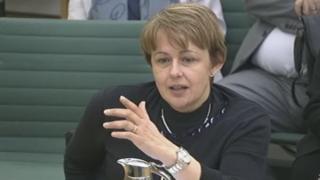 School sport and 2012 legacies are two topics close to the heart of Baroness Tanni Grey-Thompson, a Paralympic legend with 11 gold medals to her name who now sits in the House of Lords as well as acting as a director for UK Athletics.
Baroness Grey-Thompson gave evidence to the Education Select Committee's inquiry into school sport and 2012 legacy on Tuesday telling MPs that "we have to take PE and physical activity much more seriously in schools from primary school onwards".
But as well as answering politicians at Portcullis House, Baroness Grey-Thompson also responded to the questions set by School Reporters Emily, 12 and George and Richard, 15, from The Springfields Academy in Wiltshire, whose head teacher Mr Williams was also giving evidence at the session.
The 43-year-old told the pupils that intervening early is vital to ensure young people form healthy habits that they can carry through the rest of their lives.
Here are the answers to all the questions the pupils posed to her:
Q: What message would you give to girls to get them to take part in sport?
A: We know that there is a major problem with girls and sport. 80% of women do not do enough physical activity to be considered healthy, and this has long-term effects on the NHS etc.
We need to start thinking about this at a younger age. Because we know the biggest drop-off rate is 14 it's easy to think the problem starts here but we need to think about this at primary school.
Initial teacher training needs a revamp - with so many disabled children included in mainstream schools it has to be inclusive.
Many girls also do not like competitive sport so we have to think of smarter ways of engaging girls in sports/physical activities that are fun and maybe without the competitive element.
Q: Did you enjoy sport when you were at school and how were you encouraged to get involved?
A: I really enjoyed most physical education, but not all of it. It depends so much on the teacher and their knowledge and their ability to make it fun and interesting.
I did a fair amount of sport outside school where I got to do the things that I really liked. My parents did a lot to encourage me, because they both liked sport. They were also willing and able to take me.
Q: What changes would you like to see to the PE curriculum in schools?
A: I would like to see teacher training changed so that physical education is valued and sporty girls are valued.
I would like to see an integrated approach between the teaching of literacy and numeracy. They don't have to be isolated. There needs to be adequate time in the timetable to allow good quality teaching.