School sport: Primary schools 'need PE specialists'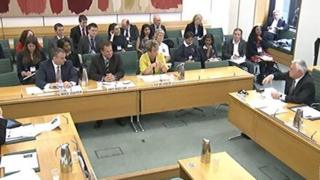 Every primary school in the UK should have a specialist PE teacher, experts in school sport have told an Education Select Committee inquiry into 2012 legacy.
Representatives of Sport England, the Association for Physical Education and the Sport and Recreation Alliance said teacher training for primary school teachers should cover sport as well as core academic subjects.
"If we're talking about sustainability, the best thing you could probably do is to have a specialist PE teacher in every primary school by building it into teacher training," Andy Reed, the chairman of the Sport and Recreation Alliance told MPs.
Another major point recommended by witnesses was the need to develop stronger links between schools and community sport providers to make sure pupils do not "drop off" from playing sport when they leave schools.
Former Olympic champion and triple jump world record holder Jonathan Edwards also spoke to the committee and described the controversial decision to axe School Sports Partnerships as a "very bad decision" which "wasn't well thought through".
'Privileged and special'
It was our first time going to Westminster and as we walked through the airport-style security at the entrance to Portcullis House we were really excited but quite nervous about the day ahead.
The policeman walking round the building carrying enormous guns certainly caught our eye as we found our way up to the Wilson Room, which was hosting the hearing. It made us realise we were somewhere really important and the fact that everybody was dressed really smartly and there were paintings and artwork everywhere just added to the impression.
We arrived bright and early to give us some time to prepare for the reporting ahead: things like coming up with questions and saying them out loud and getting to grips with the microphone we were going to use for our interview. After that, we felt much more confident.
We walked in with the rest of the journalists and other members of the public gallery to observe the committee hearing, and the room was really quiet and peaceful. We were expecting it to be loud and full of people having arguments but the atmosphere was much more friendly - we felt like we had to turn the pages of our notebooks quietly to avoid distracting people!
Although there were lots of important points being made, the mood wasn't too serious and there were a few jokes to lighten the atmosphere - including at the expense of Graham Stuart, the chairman of the committee who was sitting in a wheelchair after injuring himself in a skiing accident.
We liked the way Mr Stuart's approach helped put the witnesses at ease, and when the bell went off - apparently to tell MPs to vote at the House of Commons - on a couple of occasions it almost felt like being at school!
Taking all this into account we felt privileged and special to get the chance to report on the occasion, especially as we were the only young people there and the topic was all about something that affects all young people.
All the witnesses agreed that more clarity about the structure of the school sport set-up would help them do their jobs better, because sometimes too many organisations were involved.
"From a teacher or head teacher's point of view it can be a complex area," said Mr Reed.
"It's taken me 15 years to learn all the acronyms that are involved in the sports world! What we're trying to achieve is a join up between the schools system and community sport. That's always been the weak link in the system."
'Speaking to young people'
The lack of co-ordination between clubs and schools came up several times during the hearing.
Lynne Hutchinson, Rachel Smith and Daniel Keating, who all competed in the gymnastics at the 2012 Olympic Games, described how they got into their sport and things seemed fairly patchy in how they managed to find clubs and serious coaching.
Smith said that providing more sporting options to younger pupils helped to give them opportunities to find out what they are good at.
Sue Wilkinson, from the Association for Physical Education, said the recent announcement of £150m of funding for primary school sport provision was a positive thing, but said that sustainable funding over a three-year period would help schools plan better for the future.
The comment from Jonathan Edwards that "at the heart of this is how much we value sport and PE as a society" struck us as very true.
At the end of the hearing, we were lucky enough to get an interview with Mr Stuart. We were more nervous for the interview than we had been for the rest of the day, but he was very good at putting us at ease.
He took the time to ask our names and get them right and we really felt like he took us seriously, giving us some really good answers and even asking us questions!
As well as taking evidence from witnesses in hearings, the committee also receives written evidence and has asked young people to fill in online surveys to get their voices heard, something we did at school last week.
"What we must never forget is that the services are provided for young people - we can't just talk to professors and head teachers and 'the great and the good' - you've got to talk to those on the sharp end of the policies which is young people," he told us.
"If we didn't talk to young people directly, we'd be missing out on doing our job properly.
"We're going to use the surveys as evidence in our inquiry. They will be used in our report and will be a way of strengthening the arguments we make when we make recommendations to government. What better way of showing the strength of our argument than to show we've spoken to young people about what this means for them?"
We also asked him about his own thoughts on 2012 legacy.
"The 2012 legacy is important because the country spent a fortune on the Olympics - it was a huge event and a tremendous success," he said.
"We know that too many people suffer from obesity and don't get enough exercise, but whether you're young or old - more exercise and a healthier diet is good for your health, good for the country and good for the economy - that's the big legacy we want to see from the Olympics."